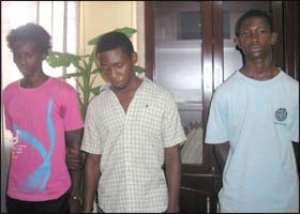 BUSTED! From right: Peter, John and Kenneth A South Korean, Paik Donge Man, who was kidnapped and detained for almost fourteen days, has been rescued by the police but not without harm.
The Director General of the Criminal Investigation Department (CID), DCOP Frank Adu Poku told the media yesterday that the man was subjected to inhumane treatment by his captors who chopped off the little finger on his right hand to compel him to part with $200,000.00.
The Korean businessman, who has been living in the country for the past four years, was invited by one Nigerian known only as Mustapha for a meeting via telephone at the Golden Tulip Hotel on February 8.
Thereafter Mustapha and nine others met with Donge Man at Lapaz where they took him to the Liberian Refugee Camp at Budumburam, Gomoa, in the Central Region.
The ten captors demanded he part with $200,000.00 as ransom whilst three young men, who are currently assisting the police with investigations were assigned to guide him to ensure he does not escape the claws of his captors.
The three, Peter Ogbolu, 16, John Bull Agu, 26 and Kenneth Euko, 22, all of Nagerian nationality are in police custody.
According to the CID boss, the captive suffered much inhumane treatment from his captors but the unthinkable happened on February 19 when his right little finger was chopped off with a grass cutter.
His assailants also bandaged his face with a cello tape and tied him with a nylon rope.
On February 20, however he was able to escape by using a razor blade which was used by his captors to shave to free himself and jumped through a window.
He was rescued and treated at the Trust Hospital. DCOP Adu Poku said the three would be charged on three counts of conspiracy, kidnapping and causing unlawful harm.
The CID boss pleaded with the general public to volunteer information that may lead to the arrest of the main culprits, including one Sudanese.
The police boss intimated that any member of the general public, who may have any key information but for fear would not want to involve himself, should make direct contacts with him at the National Police Headquarters.        
Currently he said they were going to get an interpreter from the Korean embassy to help with investigation as the victim has very limited command over the English language.
By Rocklyn Antonio