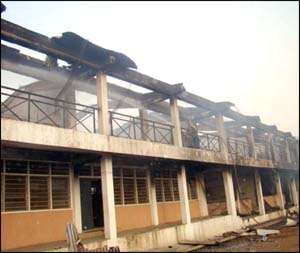 The burnt hostel The Academic Board of the Bolgatanga Polytechnic has suspended academic work for two weeks, to allow students mobilize some personal effects to enable them continue the rest of the academic year.
This is also to give the school time to assess the damage caused by a fire outbreak at the institution's hostel over the weekend.
The Polytechnic Authority, as part of its short-term measures, had also resolved to refund half of the GH¢100.00 rent to students, to cushion them in getting alternative accommodation when the institution reopens on March 9.
The Rector, Professor Paul Tanzubil, announced this at a meeting with the students, when the Upper East Regional Coordinating Director, Samuel N'lary visited the school  to assess the level of destruction.
Eight out of the 12 rooms in the classroom-block-turned hostel were burnt completely with their contents, making students lose properties running into about GH¢50,000.
According to an eyewitness, at about 2:00pm last Saturday, he saw smoke coming from room four (ground floor) and before he could raise an alarm, the fire spread to room 11 (first floor).
The hostel, which is originally a classroom block, officially accommodates 252 students made up of 132 males and 120 females.
A total of about 20 laptops and 10 desktop computers belonging to the students were believed to have been burnt.
The Regional Coordinating Director assured the authorities of the Polytechnic of the RCC's support in rebuilding the hostel to enable the students stay on campus.
He called on organizations and individuals to come to the aid of the Polytechnic especially in times like this.
The polytechnic, which is among the very new institutions of higher learning in the Upper East Region, has been crying for more infrastructure to meet its students intake demands.
As the fire razed properties, gas cylinders which were kept and used inside the rooms also kept blasting, thereby increasing the intensity of the fire.
In one of the burnt rooms meant for 20 female students, the remains of over 10 gas cylinders were counted.
From Ebo Bruce-Quansah, Sumbrungu