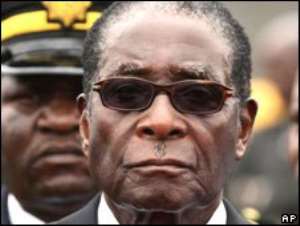 Scores of white-owned farms in Zimbabwe have been invaded since the country's national unity government took office, a union chief has told the BBC.
Commercial Farmers Union President Trevor Gifford said 77 properties had been occupied in the last fortnight.
MPs, police, the military and Reserve Bank of Zimbabwe officials had taken part in the invasions, he said.
Many of the farmers targeted recently mounted a successful legal challenge to government land reforms, he added.
The BBC attempted to contact a number of officials from President Robert Mugabe's Zanu-PF party - including the ministers of agriculture and lands - but no-one was available to comment on the farmers' union claims.
Attempts to contact the Movement for Democratic Change (MDC), whose leader Morgan Tsvangirai was sworn in as prime minister earlier this month, were also unsuccessful.
The Southern African Development Community (Sadc) Tribunal ruled in November the Zimbabwe government's programme of seizing white-owned property for redistribution to landless black farmers was discriminatory and illegal.
The government said at the time that it would not comply with the ruling.
'Ethnic cleansing'
The power-sharing deal between Zanu-PF and the MDC was eventually agreed after disputed elections and months of talks, during which the economy slid into a deepening crisis.
Mr Gifford told the BBC News website the recent spate of invasions was focused on the provinces of Mashonaland Central, Mashonaland West, Masvingo and Midlands.
The CFU president blamed the invasions on a minority of figures close to Zanu-PF who were "using their offices to ensure ethnic cleansing can take place before the prime minister is able to stabilise the country".
"This is being led by members of the old regime in Zanu-PF who are not willing to see the transition take place to a new unity government," Mr Gifford added.
"Zimbabwe is facing a severe food crisis and we're in the midst of the agricultural season so the impact of this will worsen the catastrophe."
More than half Zimbabwe's population is in need of food aid and inflation - estimated by some economists at 10 sextillion per cent - has left its currency almost worthless.
Mr Gifford said there were about 400 functioning white-owned farms left in Zimbabwe.
Meanwhile, Roy Bennett - the MDC's nominee for deputy agricultural minister - faces a bail hearing on Tuesday after he was arrested this month accused of terrorism on charges his supporters say are trumped-up.