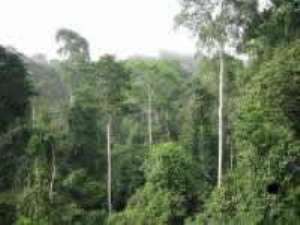 Adokpakorpe, a farming community near Kpetoe in the Volta Region, has been gripped in fear as the scare of a wounded lion in the forest around Adaklu and Kpetoe in the Adaklu-Anyigbe District has sent inhabitants parking to seek refuge in the Kpetoe Township.
This followed reports that some farmers saw footprints of a beast suspected to be a lion on their farms at Adokpakorpe on Monday morning.
At about 1300 hours, when the Ghana News Agency visited Adokpakorpe, people were seen walking from the village with their luggage towards the main road from Ho to Kpetoe.
Adokoe Mansah, a resident, told the GNA that she was afraid to stay in the village and was therefore relocating with her family to Kpetoe until she could be assured that the animal was either killed or gone.
Mr Daniel Alakpa, an old man at Adokpakorpe said fear has gripped people in the community following the reports but they do not know where to go and appealed for help for the community.
Meanwhile, the scare of the lion has become a topical issue in Kpetoe as the Kpetoe Police headed for Adokpakorpe to ascertain reports on the ground and calm nerves.
A police source at Kpetoe said a team of policemen were at Adaklu-Workpe where, the lion attacked Togbe Dzamesi II, Chief of Adaklu-Workpe and found the footprints of the lion and the spot where the Chief struggled with the lion.
The chief, who was badly injured was said to be responding to treatment at the Volta Regional Hospital.