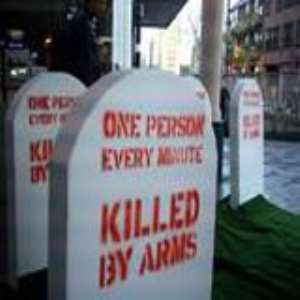 Mr. S.S Nayina, Northern Regional Minister, on Monday gave the leadership of the National Democratic Congress (NDC) and the New Patriotic Party (NPP) in the region, one month ultimatum to ensure that all weapons were retrieved and surrendered to security personnel to bring lasting peace to the area.
The Regional Minister gave the order at an emergency security meeting in Tamale, where the leadership of the two parties had confessed and testified before the Northern Regional Security Council (REGSEC), that both NPP and the NDC members in the area had in their possession sophisticated weapons.
He said "We should not make the Northern Region a warfare area. We have already been tagged with a bad name because of conflicts and this is the time to tell ourselves that enough is enough and cooperate with the security apparatus to bring peace."
He said people who would willingly surrender their weapons would not be questioned as to where and how they got them adding "From one month from today, surrender all guns in your possession and thereafter, we would hunt for the guns ourselves and there would be no limited period for the hunt."
Mr. Nayina urged politicians from the Northern part of the country to help create conducive environment for progress and said all trouble makers would be dealt irrespective of their political affiliations.
He said: "The security personnel would be arresting all trouble makers and they would not be asking them of their political affiliation. The law would determine your offence and appropriate charge."
Some of the leaders who appeared before REGSEC said in the past some people within the Metropolis openly shot people and that though they were arrested there was no indication that guns were retrieved from them.
The leaders said this has encouraged other people to arm themselves to the teeth in anticipation of violence during Election 2008 and urged the security personnel to apprehend all wrong doers to ensure lasting peace in the region.
Seven houses and three vehicles were burnt in renewed violence on Sunday between supporters of the NDC and the NPP in the Metropolis, after the burial of Abdul Rashid, who was shot dead in a previous clash between the two parties last Week.
The destroyed vehicles included a Nissan pick-up with registration No. NR 2663 C, Mercedes Benz saloon car with registration NR 5005 C and a Yamaha motorcycle.

The Minister, who joined family members to bury the late Rashid, had advised them not to revenge but to embrace peace since vengeance was for God.