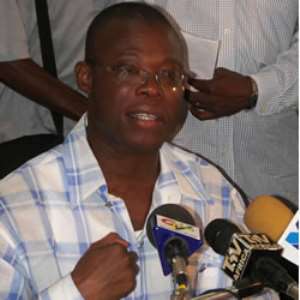 Fiifi Kwetey one of two Deputy Ministers of Finance has dismissed claims that the recent Deputy Ministerial nominations announced by President Mills were job for the boys.
Elvis Afriyie Ankrah, Baba Jamal, Rojo Mettle Nunoo who are all known party activists are among a list of 23 nominees released by the President, raising concerns the nominations are a reward to party loyalists.
But Fiifi Kwetey, propaganda secretary of the NDC, told Joy News' Evans Mensah on Monday the nominations were based more on qualification.
He stressed the nominees are capable and dedicated to serving their country with passion.
Mr Kwetey touted his economic credentials as a financial analyst and stock broker, but said his unfettered ambition to see the NDC back into power led to his "temporal suspensions as an economic person into full fledged politicking."
He however conceded it was an opportunity to serve in government for the first time but reckoned his hunger for success and determination to wipe out hunger will see him through.
Story by Nathan Gadugah