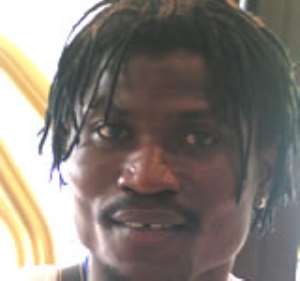 The Ghana Football Association dismissed reports claiming that Black Stars midfielder, Laryea Kingston has been dropped for the upcoming 2010 World Cup qualifiers.
The made-up story in the local media in the past week claimed that Kingston would not be part of the first qualifying game against Benin on March 29 with the player accused of being egotistical and not willing to give his utmost for the Black Stars' cause.
Also, it claimed that Ghana coach Milovan Rajevac had grown tired with Kingston's disruptive attitude.
But the Ghana Football Association and the Black Stars coach have denied the reports with the FA describing the publication as "wild and irresponsible."
FA Vice-President, Fred Pappoe, who also chairs the management board of the senior team, remains shocked over the publication.
"That was news to me, to the FA and everyone connected to the team," Pappoe told www.ghanafa.org.
With Ghana's squad for next month's qualifiers yet to be announced by Milovan Rajevac, who remains occupied with the fortunes of the Black Stars side playing at the African Nations Championship, a competition reserved solely for players who play in their domestic leagues, Fred Pappoe said such reports only create a wedge between the entire setup.
"These are wild and irresponsible publications which could only tend to create a feud between players and coaches as well as management."
"Why would anyone try to put out such a story at this time? We have almost a month to begin the qualifiers and all efforts are geared at ensuring that Ghana gets off to a good start.
"No such decision has been taken and we (FA) think the publication is unfair to everyone linked to the senior national team.
"The player in question has been committed to the team and even when injured, he shows up to be assessed by the handlers. I don't think his commitment is and has ever been in doubt.
"He has remained one of our key players and even earned praises from Rajevac after the game against Egypt for his work rate and overall performance," the Vice President of the Ghana Football Association said.
No discussion over Kingston
Milovan Rajevac has also rejected the publication over Kingston's fate with the national team.
The coach who rates the Hearts midfielder highly says the reports are untrue and stated that no technical meeting has discussed what was put out.
Meanwhile, Kingston has expressed misgivings over suggestions that he is not committed to Ghana.
Kingston, unhappy with the negative publications linked to him says he remains dedicated to helping Ghana be as successful as possible.
"These are just rumours," he told skysports.com.
"I love playing for my country and I have made a lot of sacrifices to play for them.
"I always give my best for my people, I am not a bottler.
"Whoever has a problem with me should tell me straight. Until then I am available for the Black Stars."