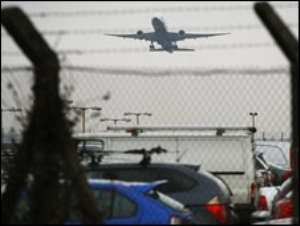 All baggage belonging to South African Airways staff will be searched, the country's airport chiefs have announced after crews were found carrying drugs.
The searches are part of a strict new regime being introduced by the airline and Airports Company SA (Acsa).
They have set up a task force including police and customs officers to try to stamp out smuggling.
Twice in the past month huge quantities of cocaine have been found in baggage belonging to crews flying into Britain.
The most recent find took place a week ago, when customs officers uncovered 5kg (11lb) of cocaine in luggage at London's Heathrow airport.
On another flight from Johannesburg to Heathrow in January, 50kg (110lbs) of cannabis and 4Kg (8.8lbs) of cocaine was discovered.
The crews of both flights were arrested and later bailed as the police continue their investigation.
As well as luggage searches, the new task force is also proposing to increase the number of sniffer dogs used by customs officials, and to install new scanners and detection devices.
Airline boss Chris Smyth said South African Airways (SAA) could not resolve the issues alone.
"SAA has neither the capability nor the mandate for broader policing and security matters and we have requested assistance via the task team," the South African Press Association quoted him as saying.
Acsa's Bongani Maseko said he would continue to work with SAA, the police and customs.
"We wish to assure all parties concerned that every possible measure will be put in place over and above the prescribed international standards to reduce criminal activity at the crew centre," he said.