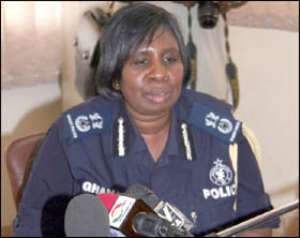 Elizabeth Mills-Robertson A POLICE DETAIL at Hilltop, a suburb of Tamale had to flee for cover when angry youth descended on them yesterday in attempts to liberate themselves from their guard.  
In the ensuing clash, the police officers, wielding their loaded guns, were seen running to escape from the youth who chased them out of their duty post and began burning down houses at Gumbihini, another Tamale suburb.
To prevent vehicles from gaining access to the scene of arson, lorry tyres were set ablaze and used to barricade the road near the main gate of the Holy Cross Parish Church.
News of the arrival of armed military officers deployed to the scene saw the disappearance of the irate group as they were chased away.  
Many residents have started fleeing and questioning the ability of the police to contain the situation, considering that the incident took place on a Sunday.  
A section of residents have expressed worry about the current trend of violent occurrences in the city, saying if this is not halted, it could drive away investors.  
A few shops that opened for weekend business, DAILY GUIDE's investigations revealed, closed up immediately sounds of sporadic gun shots were heard.  
There is however a growing fear that a dusk to dawn curfew may be imposed on the city to enable security to contain the situation.  
It has been disclosed that several sophisticated weapons including G3s, GMC and AK47 guns are being used for the current violence in the city and the police have promised to retrieve them.
In their bid to ensure this, road blocks were mounted starting last Wednesday, leading to the arrest of two persons at Lamashegu, a suburb of Tamale when they attempted to smuggle guns into the city.
Bomadi Sulemana, the driver of a Peugeot car with registration number AS 2637 V, and Zakaria Abdul were immediately arrested upon a tip-off that they were importing weapons into the region.
Eleven packets of AAA top man live cartridges, each packet containing 21 pieces and 21 packets of BD super hardcore cartridges, were found on them.  
One SMG rifle with registration number NR 3237, a locally manufactured shot gun and a quantity of unspecified AK 47 ammunitions were also retrieved from some individuals during the exercise. From Stephen Zoure, Tamale