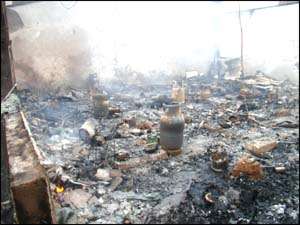 The gutted hostel PROPERTIES WORTH about GH¢50,000 belonging to students of the Bolgatanga Polytechnic were destroyed when eight rooms including the Junior Common Room and Television Room of the polytechnic's unisex hostel burnt down over the weekend.
The Students Representative Council (SRC) of the Sumburungu-based polytechnic also lost property including a public address system and a TV set valued at about GH¢2000, when the rooms in which they were kept also got destroyed by fire.
Though the source of the fire was not known immediately by the polytechnic authorities and fire fighters who rushed to the scene, a student who claimed to have witnessed the beginning of the outbreak said the fire started from room four (ground floor) and immediately spread to room 11 (first floor), and suspects it was due to an electrical problem.
The hostel, which was originally a classroom block, officially accommodates 252 students made up of 132 males and 120 females.
A total of about 30 computers, including about 20 laptops belonging to the students are believed to have been burnt. Lecture notes, pamphlets and text books, cooking utensils, gas cylinders, mattresses and other personal effects also belonging to students have also been razed by the fire.
The one storey hostel has six rooms upstairs being occupied by female students and six rooms downstairs for males. The students have however been given two workshops at the school to use as temporary accommodation while authorities find a solution to the problem.
The Senior Hall Tutor, Emmanuel Akanpaadgi, who spoke to DAILY GUIDE , said some arrangements have been made to feed the students for sometime till a remedy is found to ease their stress and pain.
He could not readily tell the value of the institutional property destroyed, but called on the government to extend a helping hand to the polytechnic through the GETFUND immediately.
Police personnel were called to the scene to prevent looting, as people had rushed to the area.  
The SRC President, Solomon Awariya said the SRC had just finished renovating and furnishing the Junior Common Room and the Television room at the cost of GH¢2100.
From Ebo Bruce-Quansah, Sumburungu