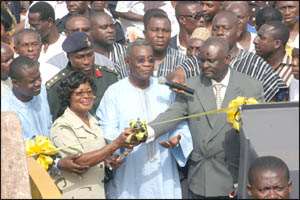 Prez Mills opening an exhibition at the JA Plant Yard PRESIDENT JOHN Evans Atta Mills says his government is committed to building the capacity of local road contractors to meet challenges since it recognizes the role they play in the country's socio-economic development.
The President assured local contractors that government would give a portion of contracts usually awarded to foreign firms to the local people.
President Mills gave the assurance when he launched a programme intended to build the capacity of local road, building and waste contractors, being undertaken by JA Plant Pool Ghana Limited, a subsidiary of ZoomLion.
The company which is also a supplier of heavy duty and earth moving equipment is doing this in collaboration with the Ministries of Transportation and Roads and Highways, some banking institutions and a road equipment supplier in China.
He lamented the absence of Ghanaian local contractors from the forefront of the economic emancipation in the major constructional work in the country and called for a change to give the local people the support to compete favourably with international firms.
According to the President, the government would continue with the programme of urban and feeder road rehabilitation and maintenance to ensure that all roads in the county, particularly those in the rural areas can withstand all weather conditions.
President Mills urged the local contractors to pay attention to quality and safety to ensure durability and thereby reduce overhead cost and prevent the loss of lives and property as a result of shoddy and poor work done.
He said government's utmost concern is the construction of some major road networks from the Central, Eastern and Western corridors linking southern Ghana to the north.
These corridors stretch from the Kumasi-Techiman-Tamale- Bolgatanga-Paga road, while the the Eastern Corridor stretches from the Tema-Asikuma-Ho-Hohoe-Jasikan-Yendi-Nalerigu-Kulungugu road. There is also the Western Corridor which stretches from the Elubo-Asemkrom-Enchi-Goaso-Sunyani- Bamboi-Bole-Wa-Hamile road.
On sanitation, the President expressed concern over the level of filth in the country, saying the health of the citizenry depended on how well the environment was kept.
Isaac Krampah, the General Manager of J.A. Plant Pool Ghana Limited said with the collaboration with the Ministry of Transportation and the support of their bankers and suppliers in China "we were able to bring into the country 250 luxury Yutong buses which we believe have improved the transportation situation in the country."
"In our effort to reach higher goals, we have concluded a Memorandum of Understanding with our Chinese partners to start an assembly plant very soon," he announced.
The National Chairman of the Local Contractors Association of Ghana, Twumasi Mensah commended the government for the opportunity to consider local contractors in the scheme of affairs.
By Wisdom Peter Awuku & Esther Awuah