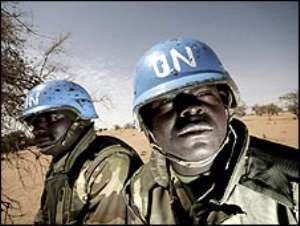 Somali Islamist insurgents have killed 11 African Union peacekeepers from Burundi in a deadly attack on an AU military base in Mogadishu.
The al-Shabab group said two of its members had carried out a suicide car bomb attack on the base.
The AU confirmed that 11 Burundian troops had died in the Somali capital and 15 others had been seriously hurt.
The AU's Burundian and Ugandan peacekeepers are now the only foreign troops in Mogadishu.
Last May, at least 13 people, mainly civilians, were killed in an attack claimed by al-Shabab militants on an AU base in Mogadishu.
The peacekeepers have been deployed in Somalia since 2007.
'Unprecedented level'
Ethiopian troops, which had had been in the country since 2006 to support Somalia's fragile transitional government, pulled out at the end of January.
A UN-brokered peace deal between Somalia's transitional government and a moderate Islamist opposition group saw Sheikh Sharif Sheikh Ahmed elected president in January.
Al-Shabab has pledged to carry on with its armed struggle against the peacekeepers.
Although detailed reports of Sunday's attacks were scarce, Reuters news agency said witnesses reported seeing a car speeding towards the gate of the base, as well as a loud explosion.
The AU said the peacekeepers' base had been under continual mortar attack since 17 February, with the bombardments reaching an "unprecedented level" on Sunday.
An AU statement condemned the attack in the strongest possible terms, saying the bombers had a "complete disregard" for the aspirations of the Somali people and the interests of the country.
The AU's top diplomat, Jean Ping, called for continued international support for the transitional government and for the AU in order to bring reconciliation and "lasting peace" to the country, the statement said.