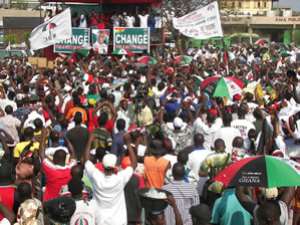 The chairman of the Central Regional Disciplinary Committee of the National Democratic Congress (NDC), Mr. Kofi Mintah, has appealed to supporters of the part to live above reproach.
He said the leadership of the party is a symbol of humility, unity and love and peace and urged them to demonstrate such qualities.
Addressing supporters at Winneba Junction, Mr. Mintah who was the immediate post regional chairman of the party cautioned them against taking the law into their own hands because the NDC is in power.
"We must desist from acts which could tarnish the image of our leaders and the party.
"Let's demonstrate that we are a peace-loving party by comporting ourselves and allowing the rule of law to manifest," he said.
Mr. Mintah appealed to them to exercise patience and allow the party some time to meet their requests.
He cautioned them against putting pressure on the government for positions, adding that each member must first know his or her capabilities and qualification before making the approach.
"President John Evans Atta Mills will not like to put square pegs into round holes just because the applicant is a member of his party," he stressed.
He assured those without jobs that everything would be done to help them to acquire employable skills.
Mr. Mintah congratulated Mrs. Ama Benyiwa-Doe on her appointment as the first woman Central Regional Minister and assured her of support in the discharge of her duties.