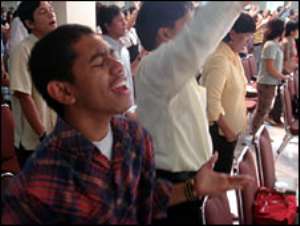 Apostle Stephen Amoani, Chairman of the Christ Apostolic Church International (CAC) on Saturday urged leaders in government and society to exhibit exemplary leadership skills and serve as role models for children and the youth.
"Leaders must shun corruption, moral ineptitude, rivalry and all forms
of social vices and concentrate on grooming our future leaders," he said.
Apostle Amoani was speaking at a children's rally organized by the Church as part of activities marking the Founder's Day celebrations in honour of the founder Apostle Peter Newman Anim.
Children from all the assemblies in the Greater Accra Region, including Taifa, Osu, North Kaneshie and Ashaiman used song ministrations, choreography, fun games, Bible quiz, and other activities to mark the day in remembrance of Apostle Anim who was the father of Pentecostalism in Ghana.
This year's celebrations, on the theme; "Leaving a good legacy" is also being used to mark the 25th anniversary of the death of the founder.
Apostle Amoani said children held the key to the future development, peace and tranquillity in every country and added that as future leaders, denying them access to acquire the needed leadership skills would be to the disadvantage of people in society.
"Undoubtedly children are gifts from God and the future of any nation or church and any society which fails to recognize their potential does so at its own peril and neglecting their growth and development would spell crises in our world to come," he said.
Apostle Amoani said providing food, clothing, shelter and education was a worthwhile venture, which should engage the attention of everyone.
"Children are our hope for an incorruptible and upright world and grooming them in the fear of the Lord should be the prime preoccupation of governments, religious bodies, professional groupings and the society at large," he said.
Apostle Amoani said, "leaving a Godly legacy enjoins children to put God at the centre of all their endeavours."
He advised children not to be enticed by the worldly pleasures but focus on their studies to acquire the needed skills that would propel them to stardom.
"Apostle Anim gave his life to Jesus Christ in his youthful days and never rested until he left a legacy of being the father of Pentecostalism in Ghana. These attitudes exhibited by these great people of God should encourage us to excel in our endeavours to also leave a godly legacy," he said.
He said many Christians focused on the acquisition of worldly riches and wealth, forgetting about the need to bring people into the kingdom of God.
Apostle Amoani commended government, non-governmental organizations, civil society and religious groups that championed the cause of children.
Mr. Peter Mensah Oracca-Tetteh, National Children's Coordinator of the Church, said the Founder's Day is the climax of the Anim's Week celebration which falls in February every year.
The Christ Apostolic Church International was founded in 1917 at Asamankese in the Eastern Region and has 2,000 assemblies in the 10 regions of Ghana and branches in 11 countries.