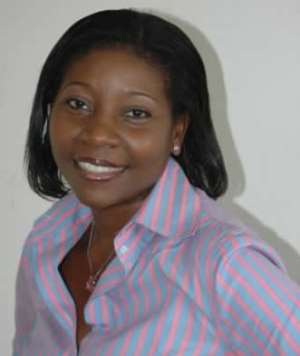 Any regular listener who tunes in and listens to the JOY FM midday news will undoubtedly conclude that the anchor and regular news presenter, Matilda Asante, affectionately called Tilly by her admirers, is not just a fine broadcast journalist but also a tough and no nonsense inquisitorial reporter who demands nothing but the bare facts from those she interviews.
However, when one meets Tilly in person and engages her in a chat, one will notice that she is more of a taciturn than a presumptuous outspoken journalist.
"I am a quiet and reserved person, contrary to what people presume that I am tough" she said.
In a chat with Tilly, who has been working as ' a journalist since 1997, she said she started her career on radio at the Ghana Broadcasting Corporation (GBC) as an intern while she was a student at the Ghana Institute of Journalism (GIJ).
According to her, her brief experience at GBC left some sweet memories with her and, therefore, she did her National Service at 'the defunct Groove FM after she had completed her training in journalism at the GIJ.
After her one-year stint with Groove FM, she had an offer from JOY FM but she opted to work with a law firm which, was in the process of setting up a news agency. While there, Tilly realised she had missed radio and approached the Chief Executive Officer of Multimedia Group Limited to find out if the opportunity offered her some time ago was still available.
She got the job and has since remained with the station where, in the last four years, she has worked at the cutting edge of Ghana's most influential private news and current affairs station.
Currently, she is the Head of News at Joy FM, managing the over 50 journalists at the station and its affiliates country-wide. She anchors the station's prime news bulletin, JOY midday news, syndicated nation-wide and on the Internet.
In this position, Tilly has led a multi-disciplinary research team to define the frontiers of news, educational and developmental documentation, interrogating the depth of national and international affairs and giving voice to the voiceless.
Tilly also hosts a current affairs programme, AGENDA, on TV3 which has been adjudged the number one current affairs discussion on television.
Ms Asante has been an advocate for hard and delicate issues, including exposing and creating national and international awareness of such issues as persistent child slavery, female genital mutilation, defilement and other outmoded traditional practices that inherently permit diverse forms of gender imbalance and discrimination against women.
She confided in The Mirror that she had the desire to bring change to people's lives and was eager to undertake more social-related programmes that had an impact on people's lives.
Tilly acknowledges that though she is a woman, "I have never look at myself as a woman. I look at myself as a professional. I work in a male-dominated environment but I don't feel intimidated by my male colleagues and that explains why I always dress like them.
We have our 'disagreements' but yet we get along."
She said her typical day starts at 8 a.m. and ends at 7 p.m.
The JOY FM News Editor has had international exposure and training opportunities in journalism, including engagements with the BBC World Service, where she co-produced and presented high-profile BBC programmes such as Global Perspectives, Outlook and Health Matters.
She is also a contributing writer for BBC Focus on Africa Magazine; a member of the