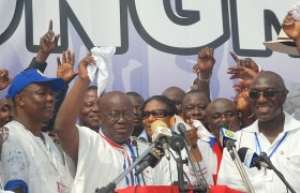 Serious lobbying has begun among the New Patriotic Party Members in Parliament to protest the initiative and its subsequent passing into law a Legislative Instrument that will honour, Osagyefo Dr. Kwame Nkrumah with a national holiday on his birthday.
President Mills in his maiden address to the nation acknowledged our first President, Osagyefo Dr. Kwame Nkrumah, and the illustrious Founder of our nation. He remarked that Nkrumahs' selfless leadership serves as a point of reference in our determination to build a better Ghana.
"Incidentally, this year marks the 100th anniversary of Dr. Nkrumah's birth and as a Country we should commemorate the event in an appropriate and befitting manner.
Among others, we intend to honour Dr. Nkrumah's memory with a National holiday to be known as Founder's Day and we will be presenting legislation to Parliament to this effect.
However in an interview, Nana Akomea, MP, Okai Koi South Constituency vowed to protest the legislation in parliament and urge his colleagues to do so.
Stating his reason, the MP said the time is yet not ripe for Ghana to honour Nkrumah, he stills believe that people are still hurt and embittered by the human right abuse suffered under Nkrumah's Presidency.
"I personally do not think we have the moral right to honour the first President as proposed by the President, people have dark memories of what treatment they suffered under Nkrumah, until such people are reconciled there is no need to set a day in his memory, what psychological trauma do u want them to go through, I personally do not support it and will urge my colleagues to rubbish it."
He said although Nkrumah's Pan-African agenda could be momentous praise for him not much was achieved in Ghana under him. "His greatest achievement should be the Millenium Man of the Century; Ghanaians are not ready for such a holiday"
These sentiments was expressed by the minority NPP in parliament when the President expressed his thought, some shouted "no way", "what has he done" "it is not right"
It's quite understandable why the NPP an offspring of the United Party are saying this.
The United Party was the main opposition party in the First Republic of Ghana. It was the only opposition party throughout its existence from 1957 until 1964 when Ghana became a one party state.
The United Party, though it was an amalgam of all opposition parties of the time, was dominated by the NLM which was the biggest opposition party before its formation. The NLM saw its roots in the Ghana Congress Party and the United Gold Coast Convention.
History has it that Kwame Nkrumah's greatest enemy was the UP which metamorphosed to Progress Party , led by Busia and formed Busia government between 1969 and 1972, then to Popular Front Party, led by Victor Owusu, from between 1979 and 1981 and finally New Patriotic Party.