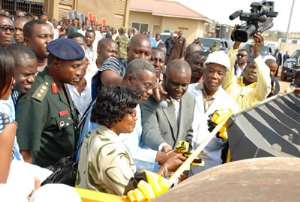 President J.E.A. Mills has assured local road contractors of his government's readiness to support them to build their capacities and ensure that they compete favourably with international firms.
Speaking at the launch in Accra of a programme to build the capacity of local road, building and waste contractors, an initiative of J A Plant Pool Ghana Limited, suppliers of heavy duty and earth moving equipment, President Mills said government would also insist that a portion of the road construction industry went to local contractors.
"I wish to assure you of Government's commitment to support the local construction industry on its promise of improving the country's road network," President Mills said.
The ministries of Transportation and Roads and Highways, some banking institutions and a supplier of heavy duty equipment in China are collaborating in the initiative.
The programme aims at helping local contractors to bid for and undertake major contracts which, over the years had been won by foreign contractors, to compete effectively with foreign contractors on the basis of effective and efficient performance of equipment, providing economic sufficiency and improve the profitability and cash flow of local contractors.
President Mills said the importance of the road network in its carriage of more than 90 per cent of the nation's passenger and freight underscored the justification of the state's investment in the provision of transport services and road infrastructure.
He said government would continue with the programme of urban road rehabilitation and maintenance as part of the urban planning and development strategy and major interventions would be made in the area of feeder roads with a view to making them all-weather roads.
The President said it was the vision and objective of government to open up the country, and gave an assurance of government's commitment to feature prominently the local construction industry to deliver on its promise of improving on the road network.
"Ghana cannot be said to be prospering if Ghanaians are not at the forefront of economic emancipation," President Mills said, and urged contractors to pay attention to quality and safety to prevent eventual increased cost and loss of lives and property due to shoddy work.