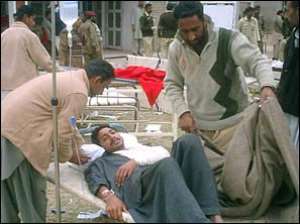 Relatives help a man injured A powerful explosion blamed by police on a suicide bomber killed more than 30 people and injured at least 50 on Friday in the Pakistani city of Dera Ismail Khan, according to residents and Pakistani television reports..
The bombing, which targeted the funeral of a Shiite Muslim man who had been shot in the city a day earlier, set off a chain reaction of chaos in the city of about a million people on the edge of Pakistan's lawless tribal areas.
Enraged mobs attacked local security forces, ransacked shops and surrounded hospitals as members of the funeral procession struggled to secure treatment for the wounded, according to the mayor, Abdur Rauf.
Local police officers were unable to deal with the unrest, Mr. Rauf said, adding that he had asked the Pakistani Army to send soldiers to help cope with the situation..
"I heard a huge explosion," said Athar Shah, a resident reached by telephone. "We saw dead bodies and blood. We took the injured to the hospital." But the main hospital for civilians did not have a doctor on duty, Mr. Shah said. When the wounded were taken to the military hospital in the city, staff there said they could not treat so many people.
In recent years, Dera Ismail Khan has witnessed persistent strife between Shiites and Sunnis, with six suicide attacks in recent months.
Terik-e-Taliban, the umbrella group of the Pakistani Taliban, has deployed suicide bombers against Shiites in North West Frontier Province and in the Kurram region of the tribal belt.
The last suicide attack, on January 4, killed seven people.
Mahmood Shah, a retired brigadier of the Pakistani Army who was previously in charge of security in the tribal areas, said of the violence on Friday showed the pent-up frustration of ordinary people who felt the authorities offered them no protection.
"The government needs to look into this aspect of Talibanization more specifically," he said.