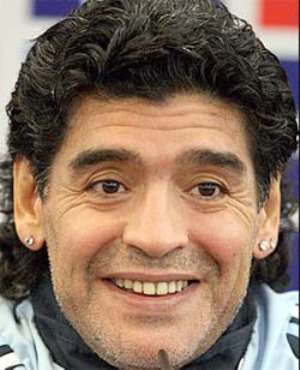 Diego Maradona FOOTBALL legend Diego Maradona became a grandfather yesterday. The Argentina manager, 48, was at the hospital when daughter Giannina, 21, gave birth to a son.
The lad was named Leonel after Barcelona's Lionel Messi — best pal of his dad, Atletico Madrid ace Sergio Aguero.
Hand of God star Maradona is due to be joined at the clinic in Madrid by his ex-wife Claudia.
The problem-free birth came after Aguero, 20, pulled out of a match in November when girlfriend Giannina was rushed to hospital with complications.