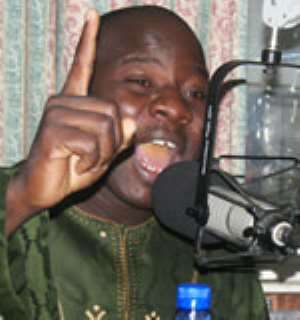 Presidential Spokesperson Mr. Mahama Ayariga has dismissed claims that the seizure and subsequent search of the vehicle of the NPP running mate in the 2008 elections amounted to political harassment.
Dr. Mamamudu Bawumia was on Friday held by the military at the Tamale Airport for an hour on suspicion that his car carried weapons.
The car was taken away from him for searching and later returned to him.
Mahama Ayariga told Joy News' Evans Mensah, he was yet to be briefed properly on the event but his information indicated that the search yielded an AK47 assault rifle concealed in the vehicle.
He maintained he was yet to confirm his information.
But an aide to the Vice presidential candidate explained the weapon, duly registered, belonged to a police bodyguard assigned to Bawumia by the Bank of Ghana and who was part of the team that was stopped by the military.
The presidential spokesperson maintained the security personnel on seeing the weapon had to be convinced there were no other such weapons in the vehicle, necessitating the brief seizure of the vehicle.
He could not however tell if Bawumia was taken along to the venue where the vehicle was thoroughly searched.
Ayariga maintained the law enforcement agencies must be allowed to do their job and cautioned against the politicisation of their responsibilities.
He described as unfortunate and inflammatory a statement issued by the General Secretary of the NPP in reaction to seizure and search of the vehicle.
The NPP statement warned of dire consequences if the consistent harassment of people perceived to be political opponents was not halted.
But Mahama implored the NPP to refrain from making such statements which he said could trigger tension in an already volatile area.
Story by Nathan Gadugah