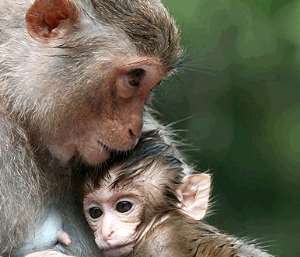 I read with dismay the story of racism perpetrated against Black African footballers playing abroad, particularly in Europe. A Ghanaian footballer (John Mensah) playing in a French Club-- Lyon--was subjected to racist remarks last weekend. The poor guy lost his cool and was in such disoriented state that he earned a red card in the process of the game. In his post-match interview Mensah said: "I want to go back to Ghana, to flee. To put a stop to all that" (AFP, Paris; Star Sport News, Thursday 19th Feb., 2009). John Mensah has not been the only person facing the wrath of wretched European racists. Samuel Eto'o of Cameroon has also been a victim in Spain. The usual racist remarks use against the African players are "monkey cries" anytime these players touch the football. Such racist acts go against not only the footballers, but also against many other Blacks, who chose to be silent.
Against this backdrop, I pose this question: Is the black man a monkey or is the black skin that of a monkey? If we choose to go by Darwinism (Charles Darwin's Theory of Evolution), though debatable and controversial, all humans (Blacks, Whites, Yellow, etc) evolved from apes. Now if for some parochial reasons one race think other race are monkeys based on colour, we should remember that there are also RED MONKEYS in the jungle. Surprisingly, the RED MONKEYS are the exact replica of the White race, particularly their COLOUR and EARS.
I, therefore, urge the players to stay strong and to use the following stratagem to their advantage:
1. The players must order large portraits of RED MONKEY and show to the world during their press conferences that there are not only black monkeys in the system, but also there are equally red monkeys having large, fan-like ears like those of the White race, and
2. The players should learn to hold their ears on the football pitch, anytime the purported "monkey cries" are sounded by their detractors.
I hope these tricks will reach our footballers through those, who may have had their contacts. I believe strongly that God would never err, and Has never erred in His creation. Every aspect of creation is teleological, so are the differences in human race.
These White guys misbehaving in Europe often turn a blind eye to the fact that their SYSTEM gives them the edge. And that system has largely been sustained by dubiously siphoning the resources of other nations, particularly Africa. Shame unto Africans not only the leaders, who have always failed to "wise" up because it appears when we rise up we still feel drowsy and sleepy from their long years of slumber. Shame on Africans because we are strongly divided along ethnic, tribal and parochial national interests, which the VAMPIRES are fully exploiting to their advantage.
Talk of Nkrumah and names like Kotoka, Afrifa, Busia etc, at home and Kenneth Kaunda (Zambia), Nnamdi Azikiwe (Nigeria) etc, abroad would stand in strong opposition to "unity in progress" at home and in African as a whole. Nnamdi, I learned, used to refer to Nkrumah's continental government move as "Accra Madness." And Busia went into self-exile, painting the Nkrumah's government black all over the West. We must be quick to remember that 2/3 of the White race will associate themselves with others; particularly the black man only when there is some thing at stake. And if he (the Red Monkey) stands to benefit substantially. Quite recently a Nigerian Governor openly, but shamefully remarked there was nothing Nigeria could learn from the historic Ghana's elections. He rather urged Ghana to learn from Nigeria. May God forbid!! Learn what from Nigeria? 419; Mismanagement of oil resources; Money laundering; Religious rioting; Burning Churches and Mosques; Sophisticated, state-of- the-art arm robbery? Shame!!!!!!!!
Abdul-Mumin Abdulai
(PhD. Candidate)
Institute of Environment & Development
National University of Malaysia (UKM)