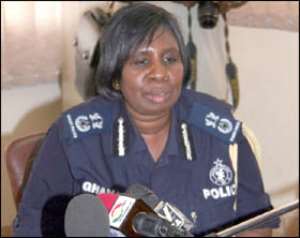 Acting IGP, Mrs. Elizabeth Mills-Robertson A BENCH warrant has been issued for the arrest of General Corporal Lawrence Dennis Quansah, one of the police officers who allegedly stole various sums of money from a Ghanaian businessman, Kwaku Dua, based in Switzerland.
Four other accused persons whose names were withheld from the charge sheet were also to be arrested.
The warrant is as a result of the failure of the accused persons to appear before an Accra Circuit court where other accomplices including a Deputy Superintendent of Police, Patrick Kwapong, were charged yesterday.
However sources say G/CL Lawrence Dennis who was spotted around the court premises in the early hours of yesterday reported himself at the Police Headquarters and had been detained for court today.
The three policemen, including a Deputy Superintendent of Police, were dragged to court to answer charges on stealing after a probe ordered by acting IGP, Elizabeth Mills-Robertson indicted them.
The officers, DSP Patrick Kwapong of the Rapid Deployment Unit (RDU), Chief Inspector Thomas Adu and Sgt John Adjapong, whose trial was held in camera were charged with three counts of conspiracy to commit crime, unlawful entry and stealing.
The court presided over by Justice Mrs. Elizabeth Ankomah granted the accused persons bail in the sum of GH¢10,000 with two sureties each to re-appear on March 11, 2009 after pleading not guilty.
The four policemen were on Tuesday February 17, 2009 granted police enquiry bail but the three were re-arrested by the Police CID upon the instructions of the Acting IGP, Mrs. Elizabeth Mills-Robertson, while Quansah was nowhere to be found.
The personnel, currently on interdiction, were reported to have gone to Relax Hotel at Dzorwulu to arrest Mr. Dua upon a tip-off that he was engaging in a fraudulent business.
However, facts indicate that Kwaku Dua arrived in the country to purchase some gold after contacting a friend, Ams Amanor over his desire to purchase the commodity.
Ams who had no knowledge of such deal promised to connect Dua to one Ata aka Kay who could get him the gold, which he did.
An interaction between Kay and Dua caused the latter to proceed to Ghana for negotiations to purchase the gold.
On February 2, 2009, the police, armed with information that Dua and about six others were transacting a fraudulent business at a hotel in Dzorwulu, stormed the said Hotel to effect arrest.
On reaching there however, the police, without any provocation, allegedly pounced on the suspect and gave him a sound beating leaving him with a swollen face.  
During the scuffle that ensued between the police and the suspects, an amount of $53,000 and some €8,000 as well as other items such as digital camera, two CD players, a bag containing two walkmans, two bunches of keys, one Standard Chartered Bank cheque book all valued at $4,000 belonging to Dua were stolen.
Kwaku Dua who was hauled to one of the police stations in the metropolis was detained for some hours and later abandoned at Tema.
The victim, Kwaku Dua, believes that the police have his money and the other properties.
By Mary Anane