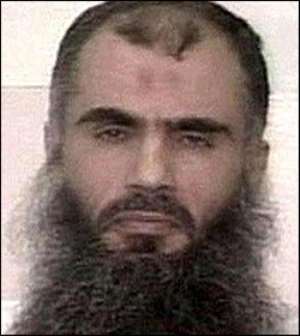 Detained ... Qatada HATE preacher Abu Qatada was today awarded £2,500 compensation after judges ruled his detention without trial in the UK breached his human rights.
Yesterday Qatada— dubbed al-Qaeda's European envoy — lost the latest round of his UK legal battle to stay in Britain.
But 24 hours later he won a separate case in the European Court of Human Rights that his detention violated the Human Rights Convention.
Attacks
He was held under anti-terror laws introduced by the Government after the 2001 attacks on America.
Shadow home secretary Chris Grayling said today of the ruling: "This decision will horrify most reasonable people in the UK. TheSun
"It shows just how incompetent the Government has been at managing the problem of preachers of hate and, frankly, it makes a mockery of the concept of human rights if we can't protect ourselves against people who are out to destroy our society."