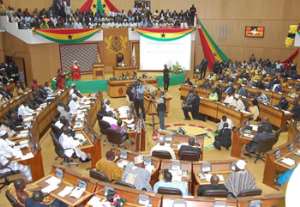 President John Evans Atta Mills has reiterated his desire for harmony between the executive and legislature in the interest of the country.
"I wish to remind the Majority in this house to be always mindful of their obligation to the people who elected them and never to forget the worries of the men and women which sretched from pay-day-to pay-day.
"Madame Speaker, I extend a genuine hand of friendship to brothers and sisters of the minority. We must work together in parliament to fashion legislation that will enable Ghana to face and overcome the many challenges confronting it..consensus building is both vital and precious."
The president made these call at his first State of the Nation Address to Parliament on Thursday.
The relationship between the two arms of government has been strained following revelations of the ex-gratia for former parliamentarians and executives of government which have since triggered huge public discontent.
The move by the president to cut by a month, emoluments payable to the MPs angered a number of them, with most threatening to either sabotage or take the president to court for redress.
Whilst the president's sessional address was silent on his next line of action in respect of the ex-gratia, his efforts at building consensus between the two arms were pronounced.
The President proposed the setting up of an MP Constituency Development Fund to be disbursed for the development of the various constituencies.
The fund which would be operated separately from the District Assemblies Common Fund is geared towards eliminating the tension that has usually characterised relations between District Chief Executives and the MPs.
The president also revealed that Service Personnel would be sourced as research assistants to MPs to facilitate their day-to-day activities.
"Madame Speaker, as a result of recent events, the impression has been created that Atta Mills doesn't like MPs. I believe this package shows that Atta Mills cares for you," he stated.
But the ofers did not seem to have convinced MPs from the minority who booed and jeered in protest.

He called on the MPs to assist in the development of the country's economy and assured them of financial benefits once the economy is placed on a sound footing.
Generally, the atmosphere in parliament was highly reconciliatory.
The meeting was attended by former presidents Jerry John Rawlings and John Agyekum Kufuor.
Story by Nathan Gadugah