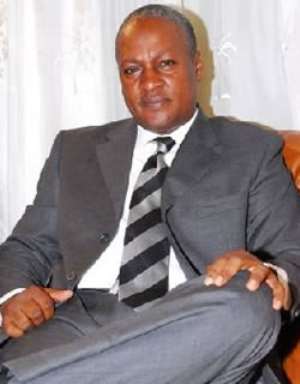 The government's desire to establish a university in the Volta Region was given a major boost yesterday, with the announcement by a group of humanitarian agencies that they are through with plans to build a modern Medical and Technical University in the region.
The university, to be sited at Sokode in the Ho District on a 4,000-acre land donated by the chief of the town, is estimated to cost 850 million dollars and will be funded solely by ACORD, a Switzerland-based organisation engaged in supporting humanitarian projects in developing countries.
Jonie Akabuo, Chief Executive of Suric Limited, the main contractors for the project, briefing Vice President John Mahama on the project at a meeting at the Castle, Osu in Accra, said that construction work is expected to begin by the middle of the year.
He said although the project was being funded by ACORD, it would be donated to the government to manage as a public university in line with the organisation's contribution to boost education in Ghana.
He said the project, which would be in two phases, was initiated by Project Aid Foundation, a Ghanaian humanitarian organisation, after which it attracted support from ACORD.
The first phase, he explained, involved the construction of a 500-bed teaching hospital to be completed at the cost of 250 million dollars, while the second phase, to cover the construction of a Medical and Technical University would be completed in three years at the cost of 650 million dollars.
After completion, he said, a fund would be set up to support needy students who enter the university.
"It is expected that the project will help to generate employment and enhance the health and human development needs of the country," he stated.
Mr. Akabuo appealed to the government to help to facilitate the construction process in terms of the clearing of materials at the port and attracting qualified members of staff for the university.
Vice President Mahama, who was elated on hearing about the project, described it as "manna from above."
That, he said, was because it was government's intention to establish a university in the region, and therefore the intervention of the group would ease the burden on the government in establishing universities in the other regions without any.
He lauded the project and commended the group for the support saying, "you can count on us to make this project a reality."
He gave the assurance that the Presidency would get the Minister of Health to set up a committee to facilitate the project to ensure its early completion.
An agreement for the project has already been signed between Suric Limited and ACORD.
Omran Mohammed Fouad, a representative of ACORD and Hinnedy Magdi, a consult of Credit Suisse of Switzerland, partners of ACORD, who were part of the delegation to the Castle, are in the country to assess preparatory works for the commencement of the project.