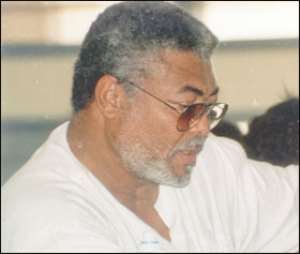 JJ Rawlings THE CURRENT issue of ex-gratia is as equally shrouded in controversy as the 2001 version which showed ex-Chief of Staff in the National Democratic Congress (NDC) administration, Nana Ato Dadzie signing away millions of cedis to appointees and party functionaries.
DAILY GUIDE stumbled upon a Tuesday, February 13, 2001 edition of the now defunct Evening News whose lead story was about what was then considered a scandalous management of the End-Of-Service benefit.
State vehicles at the time were reportedly valued at what the paper described as ludicrous prices for ex-ministers and political party functionaries.
Perhaps what mesmerized Ghanaians most was the opportunities given party functionaries to avail themselves of the windfall.
This, the paper captures thus, "as was the case with vehicles, the former Chief of Staff, Nana Ato Dadzie hurriedly signed away millions of cedis to the appointees and even party functionaries for what reasons only he and his colleagues can explain to the people of Ghana."
Nana Ato Dadzie reportedly set up the Chief of Staff ESB Account with the Metropolitan and Allied Bank from which the functionaries cashed their cheques.
Ex-President Jerry John Rawlings was reportedly given two cheques valued at ¢92,053,364.48 and ¢24,691,821.93 respectively.
The then Vice President John Evans Atta Mills received a handshake of ¢56,792,766.24 and another whose value was not legible.
Dr. Obed Asamoah had ¢41,454,582.12 and ¢13,156,181.75 while Alhaji Mahama Iddrisu got ¢42,862,681 and ¢11,497,736.54.
Prof Kofi Awonoor received ¢30,413,975. 62 and ¢8,451,225.70 while Nana Ato Dadzie himself drew a total of ¢54,364,338.46.
Other beneficiaries of the Chief of Staff's ESB Account at the Metropolitan And Allied Bank included Willie Ansah, Dr. Ibn Chambas, Dr. Spio Garbrah, Col. Jeff Asmah, Fred Ohene Kena, Dr. Kwabena Adjei and Ibrahim Musah.
Others were Lee Ocran, Ebo Hawkson, Jacob Arthur, Dan Abodakpi and Francis Yaw Osei-Sarfo.