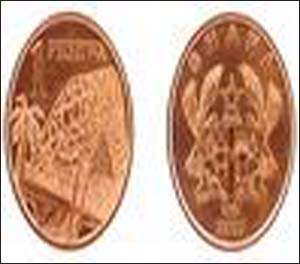 Ghana Pesewa Coin The One Ghana pesewa coin, which was introduced as part of re-denomination of the country's currency in 2007 is not easily accepted among the public either for purchases or change, a survey has revealed.
The survey, mainly public opinion sampling on the  acceptability of the one pesewa coin, conducted by the Ghana  News Agency  further revealed many instances where some  buyers prefer to let vendors keep the coin, rather than to collect it  as change.
In a few instances, some people even refuse to accept the one pesewa coin as legal tender, a situation which requires prompt action from authorities to step up education to drum home the fact that irrespective of its value, the coin remains legal tender. Some people who spoke to the GNA advocated the withdrawal of the coin from circulation, saying its continuous use as a medium for the transaction of business might create problems.
Mrs. Margaret Asante, a shop owner who supported this assertion, said though she accepted the coin from her customers, it was always a problem whenever she issued them as change to others.
She said she was keeping a box full of one pesewa coins rejected by customers and urged Government to initiate steps to address the problem. Source:
GNA