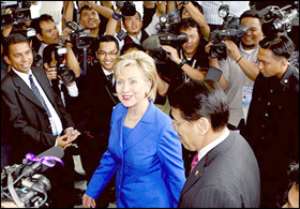 Hillary Rodham Clinton U.S. Secretary of State Hillary Clinton said Wednesday that the United States plans to resume sending Peace Corps workers and scholars to Indonesia.
Clinton made the remarks in a news conference here. Indonesia is the world's most populous Muslim country. It is the second stop of her tour of Asia, her first trip abroad as America's top diplomat.
The Peace Corps stopped sending workers to Indonesia in 1965 but plans to start sending them there again soon, Clinton said.
The Peace Corps is a U.S. government program that sends people to developing nations to work on projects meant to improve health, education, the environment and general living conditions.
The United States also plans to start sending Fulbright scholars to Indonesia. The Fulbright Program makes grants to scholars for studies outside the United States.
Clinton also said that Islam, democracy and modernity can co-exist.
She is scheduled to meet with President Susilo Bambang Yudhoyono on Thursday.
Clinton will "discuss the close and growing partnership with Indonesia and perspectives on common interests in Southeast Asia," according to the State Department Web site.
She began her trip in Japan, where she met with Prime Minister Taro Aso, as well as the foreign and defense ministers.
Clinton left for Asia Sunday and is also slated to travel to China and South Korea to discuss a range of issues, including mutual economic recovery, trade, the prevention of nuclear weapons proliferation and reversing global warning.
Her trip represents a departure from a diplomatic tradition under which the first overseas trip by the secretary of state in a new administration is to Europe.
Clinton has said the Obama administration wants to "develop a broader and deeper" relationship with Asia, a region that has felt overlooked by the United States despite its growing global importance.
She said of her tour before leaving the United States: "It demonstrates clearly that our new administration wants to focus a lot of time and energy in working with Asian partners and all the nations in the Pacific region, because we know that so much of our future depends upon our relationships there."