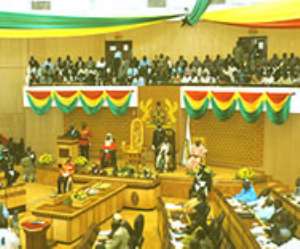 Information minister designate Zita Okaikoi has pledged to operate an "open door policy to the media" when confirmed as minister.
She reckoned the media formed an important part in the development of the country.
The 33 year old, arguably the youngest in President Mills' administration made these assertions as she smiled and mumbled her way through a grueling parliamentary vetting on Wednesday.
Keeping her answers shot, not wanting to complicate issues, the minister designate was questioned on a number of issues, including, her mandate as information minister, the relevance of the ministry, marketing, her profession as a lawyer, comments she allegedly made on a campaign platform and palpable errors in her CV.
Just after a brief description of herself, Hon. KT Hammond unseated the Minister designate, forcing her to admit to errors inherent in portions of her CV.
Zita Okaikoi had on her CV "qualifying certificate of law" as the certificate she obtained from the Ghana Law School, instead of "Barrister of Law", an error she duly admitted.
"Well I have just been told is a mistake so I accept it," she said.
Zita further stated her mandate as the minister of information would be to serve as a bridge between the government and the people, providing information and taking feedback to government.
She also dismissed assertions that she is "arrogant" an attribute which culminated in her defeat to Prof Mike Ocquaye in Dome Kwabenya constituency in the December elections.
"Mr Chairman I am not an arrogant person and if u look at the results in my constituency, I did creditably well," she retorted.
When Atta Akyea, MP for Abuakwa South asked if she had accused Prof. Mike Ocquaye of stealing the constituency results, and having the "court in his pocket," Zita Okaikoi admitted saying there were irregularities in the constituency results but could not recall if she accused Prof. Ocquaye of having the court in his pocket.
She had preferred writing another version of the "stolen verdict" than going to court.
Zita Okaikoi pledged to relegate partisan interest to the background and concentrate on marketing the country as the appropriate business destination to the outside world.
Zita was the 29th minister nominee to have been vetted. Dr. George Sepa Yankey, Minister Nominee for health, took his turn at the vetting earlier in the day.

Story by Nathan Gadugah