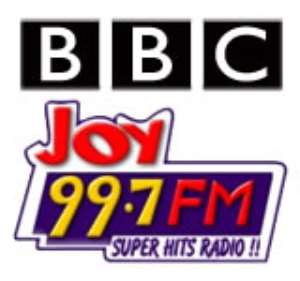 Versatile Joy FM senior broadcast journalist Dayo Akwasi Sarpong has left for the British Broadcasting Corporation (BBC), London, UK.
Before joining the BBC, Dayo as he is popularly called, hosted the fast-past, pressure-driven political talk show News File with a common sense approach. He demonstrated excellent anchoring skills, presenting his listeners with the neatest Saturday political menu.
Dayo was a piece of talent during the 2008 election cycle, from eavesdropping on inter-party meetings at the electoral commission for exclusives to giving picturesque live reports on events that characterised the ballot.
At Joy he secured exclusive interviews with many personalities including the former President John Kufuor and the presidential candidate of the New Patriotic Party in the last election.
He occasionally hosted Joy FM's flagship programme, the Super Morning Show. And his enormous experience in political reporting and stint in local and international sports always made him a great morning masterpiece.
While at the super hits radio Joy FM his works were spread across many platforms including the Seatle Post-Intelligencer and the Associated Press. He also freelanced for the BBC.
Although he found himself in a highly-pressurized deadline-oriented newsroom, Dayo made a mark on his colleagues and bosses.
"Akwasi is a very humble character. Despite his achievements, he is so good, so talented and yet he has touch of humility in him that is amazing. He is a guy that any big media organisation can proudly boast of as one of their own," programmes manager Kofi Owusu testifies.
The exiting of Dayo obviously presents Joy News editor Matilda Asante with a lot of mixed feelings but she describes him as "a great asset."
"He is obviously a great person to be working with. I had been listening to him and in the lead up to his last days in Ghana; I think I had felt and heard him and actually wished that he would stay," she told her colleague journalists at the studios of Joy FM.
During a segment on the Morning Show to celebrate Dayo's new achievement, senior editor Ato Kwamena Dadzie "battled" sports editor Karl Tufuor as they debated which of them had had the best impact on the BBC man.
Senior broadcast journalist Israel Laryea as well as other colleagues in the newsroom gave expression to the fond memories they held of their leaving colleague.
Dayo currently holds an International PR Masters degree from Cardiff University. He researched the area of the Stereotyped International Press coverage of Africa.
He has over 11 years of journalism experience as a reporter, sub-editor and producer.
Dayo is an alumnus of the Ghana Institute of Journalism and Fellow of Marquette University, Wisconsin and Les Apsin Centre for Government, Washington DC.