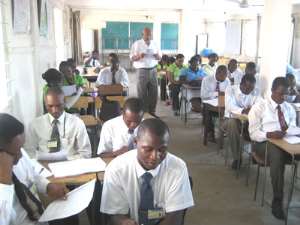 Tips for teaching critical thinking skills
*Using key excerpts from the GES Syllabus
By Anis Haffar
As we begin the New Year 2009, it is appropriate to encourage new and continuing teachers to re-visit the Ghana Education Service (GES - Ministry of Education) Syllabus to refresh their outlook, and prepare for the educational challenges ahead.
The Syllabus presents a comprehensive body of subjects, and their respective topics. It is advisable that teachers master the Syllabus. This will put them in a good stead. It is possible, from my experiences in designing and conducting workshops in Critical Thinking Skills, that some teachers may not have ready access to it.
The excerpts (provided below) offer opportunities for teachers, heads, and proprietors to develop optimal learning experiences in classrooms. The use of high levels of intelligence is within the grasp of any class. Empowering each student to think for him or herself is the key, and the Syllabus encourages that.
The old dogma – supported by our colonial past – dictated that children were to be seen, and not heard. How naïve and impertinent that was! That colonial corrective itself needs correcting. Children must be seen, heard, and admired. How else do we raise the youth to be leaders? Hide them from polite company? Bottle them up behind desks?
Great ideas are like shooting stars: You never know, for sure, where they flow from, or who have seen them already; but the process of critical thinking - in any given learning situation - contributes to their existence, and most important, the applications of good ideas. It's never too early to raise and involve the youth visibly in national development.
Any methodology that focuses merely on the Lower Level Thinking (the Knowledge and Understanding profiles) engages only a fraction of the brain's powerful abilities. For example: Mentioning 2 reasons, Listing 3 disadvantages, Stating 4 ways, etc. - repeated over and over again in notebooks and examinations – limit intellectual growth, and create a sense of futility. It is like being locked up in a glass cage and forbidden to think further. Years and years of such infirmities gag the learner's spirit into powerlessness. Graduate joblessness and functional illiteracy do not just happen; they are caused.
The Higher Level Thinking skills (through Application, Analysis, Synthesis, and Evaluation) are the profiles that call for actionable objectives, creativity, enthusiasm and meaningful assessment. The significant focus here is how we use our Knowledge and Understanding meaningfully.
The under listed are important excerpts from the Syllabus to help teachers. This piece complements my earlier article "Preparation Prevents Poor Performance: The key roles of an effective teacher" (Daily Graphic, December 11, 2008).
The following suggestions for teachers – extracted mainly from the GES Syllabus - are universal. They will complement any subject or topic taught from Primary, Secondary, and Tertiary.
Content: "the syllabus presents a selected body of information… In some cases, you could add more information to the content presented… read widely enough to be able to have more information than is contained in content … constantly look for other supplementary material… select passages from other sources."
Teaching and Learning Activities: Use "teaching and learning activities (that) will ensure maximum pupil participation in the lessons… The instructional model to bear in mind is understanding followed by practice. You are encouraged (to add to) the suggested teaching and learning activities (in order to) achieve optimal pupil learning".
Evaluation: [Evaluation] "exercises can be in the form of oral questions, quizzes, class assignments, essays, structured questions, project work etc. The suggested evaluation tasks are not exhausted. You are encouraged to develop other evaluation tasks to ensure that pupils have mastered the instruction. Emphasizes the cognitive, affective and psychomotor domains… whenever appropriate."
Relevant Lesson Plans: "bear in mind that the syllabus cannot be taken as a substitute for lesson plans. (It is) necessary (to) develop a scheme of work and lesson plans for teaching the units."
Put emphasis on the acquisition of effective communication skills:
"encourage pupils to listen carefully (and) carry out instructions and speak English… The
teacher is further encouraged to use initiative in improvising and planning new materials
(and) to constantly look for other supplementary materials (for) Listening and Speaking
and Reading."
Developmental issues: Aim "at increasing the pupil's knowledge about critical issues (e.g.) important geographical aspects of the world, modern inventions (and) communication systems …reasons why some nations are rich and some are poor. (Use) initiative in improvising and planning new and useful materials".
Profile Dimensions (for Critical Thinking Skills): move teaching and learning (from mere) acquisition of knowledge and rote memorization…pupils (to) be able to apply their knowledge, develop analytical thinking skills, development plans, generate new and creative ideas and solutions."
Student Centred Instruction: "emphasize participatory teaching and learning (in) lessons."
Science: "For Ghana to develop, there is the need to eliminate superstition… encourage the rapid development of (science and technology). (In) pupil-centred and oriented
(lessons) teacher (acts) as a facilitator… (when help is needed) the teacher (should)
contact resource persons."
Hands-on activities challenge pupils to develop their own ideas, and secondly they make the subjects more meaningful and relevant.
Profile Dimensions for Critical Thinking
A Profile of Dimensions: "A central aspect of (the syllabus) is the concept of profile dimensions that should be the basis for instruction and assessment". Set tasks and assignments that will challenge pupils to apply their knowledge to issues and problems, and "engage them in developing solutions." [This area is the Cognitive Domain].
A Profile of Dimensions consists of: Lower Level Thinking Skills: i.e. 1. Knowledge, and 2. Understanding, and
Higher Level Thinking Skills (or Critical Thinking Skills): i.e. 3. Application, 4. Analysis, 5. Synthesis, 6. Evaluation.
The Knowledge Profile is the ability to remember or recall material already learned.
The Understanding Profile is generally the ability to grasp (comprehend) the meaning of the material, text, picture, graph, etc. In involves the ability to: explain (in your own words), summarise, paraphrase, describe, list, etc.
The Application Profile is the ability to apply rules, methods, theories, observations etc. to real life situations, or to concrete situations that are new and unfamiliar. It also involves the ability to produce, solve, plan, discover, etc.
The Analysis Profile is the ability to break down material into its component parts: to differentiate, distinguish, identify significance, recognize assumptions, logic or fallacies.
The Synthesis Profile is the ability to put various parts together to form a new whole. It involves the ability to compile, combine, compose, devise a plan, design, organise, create, develop a criteria for judgement, write an essay / letter / report / any creative work, etc.
The Evaluation Profile is the ability to appraise, comment, judge, contrast, compare, discuss, justify, conclude, commend, recommend, etc.
"Evaluation is the highest form of thinking (and) the most difficult behaviour … start to develop this most important skill in your pupils by giving them lots of chances to do evaluative thinking while learning (any) subject." Continuous Assessment include "Projects: These are tasks assigned to pupils to be completed over an extended time. These will include … practical work (and) investigative study (including case study). A report must be written for each project undertaken."
Attitude and Responsibility Skills: To develop functional literacy students should be exposed to situations that challenge them to practice, often, what they learn. As much as possible instruction must develop and support positive behaviours - The Affective Domain - such as: Leadership, Curiosity, Passion, Perseverance, Flexibility, Reflection, and (above all) the " Yes, I Can" spirit. These are the preludes to the meaningful education.
Wishing all teachers the very best in the New Year. Let's do our best, and God will do the rest.
The author is founder of GATE Institute for Teacher Education. He consults in English Language skills, and Methodologies for Leadership and Application Oriented Teaching and Learning. E-mail: [email protected]