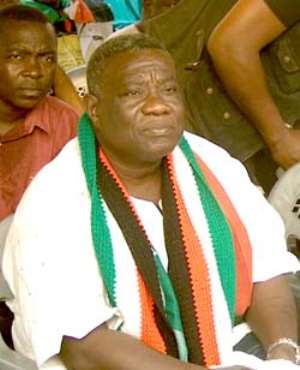 President John Evans Atta Mills on Wednesday, reiterated his message of modesty to appointees under his administration, reminding them to judiciously manage the nation's resources to meet the challenges of changing world economic and social order.
As he swore the second batch of 13 Ministers approved by Parliament, at the Castle, Osu, the President said the nation could no longer depend on the largesse and generosity of Development Partners and needed to take emergency steps to meet the aspirations of the Ghanaian.
The President administered the Oath of Allegiance, oath of Minister of State and the oath of Secrecy to the Ministers, and presented their Instruments of Office to the Ministers, made of nine Regional Ministers and four others with different portfolios.
The Regional Ministers were: Mr Paul Evans Aidoo, Minister for Western Region; Mr Samuel Ofosu- Ampofo, Minister for Eastern Region and Mr Kofi Opoku-Manu, Ashanti Regional Minister.
Others are Mrs Ama Benyiwa- Doe, Central Regional Minister; Mr Kwadwo Nyamekye Marfo, Brong Ahafo Regional Minister and Mr Mahmoud Khalid, Upper West Regional Minister.
The rest are Nii Armah Ashietey, Greater Accra Regional Minister; Mr Joseph Amenowode, Volta Regional Minister and Mr Stephen Sumani Nayina, Northern Regional Minister.
The four others Ministers were: Lt Gen (rtd) Joseph Henry Smith, Minister of Defence; Mr Haruna Iddrisu, Minister of Communications; Ms Hannah Tetteh, Minister of Trade and Industry; and Alhaji Muntaka Mubarak, Minister of Youth and Sports.
President Mills said the Ministers must be at the frontline of the nation's development as they were elected by the people with definite concerns, which stretched "from pay day to pay day" adding that they were going there as representatives of the people.
He called on them to exhibit honesty, watch their lifestyles and be humble in their duties.
Presindent Mills urged the Ministers "to look back and examine where they were coming from", reminding them that they had to justify the confidence he and Ghanaians had in them.
He said their performance in office would determine whether their mandate would be renewed or rejected in 2012, reminding them that, "it had not been easy choosing them from the array of expertise available within the ruling National Democratic Congress (NDC)".
The President added that he was ready to defend his choice of Ministers, and called on them to let people feel that they were Ministers "who cared for the people of the country, let people know that politicians could make a difference".
President Mills called on the Ministers to share the resources of the nation equally, bearing in mind, the people who are deprived.
He urged them to start work immediately, and prayed for God's blessing and good wishes.
"I hope He (God) will shower us with his bountiful blessing, and truly God will make our nation great and strong," President Mills said.
Vice President John Dramani Mahama cautioned the Ministers to rise above partisanship in the discharge of their duties, saying that, the days when politicians went after the business of political opponents were gone.
He urged the Ministers to be even-handed, but not to abdicate their ties with their party.
He urged the Ministers to avoid abuse of office and conflict.
However they should let the law apply and punish wrong doing according to law and separate criminality from politics.
"You need to have a firm hand and punish people who acted with criminality," Vice President Mahama said, and urged the in-coming Northern Regional Minister to take steps to retrieve guns that were in illegal possession in the Northern Region.
Alhaji Mahama Iddrisu, an Elder of the NDC urged the Ministers to work very hard and be sincere with the people of Ghana as well as paying attention to all sections of the Ghanaian society.
"Every Tom, Dick and Harry, listen to them and make your decisions," Alhaji Iddrisu said.
Ms Hannah Tetteh, Minister for Trade and Industry, on behalf of her colleagues assured the President and Ghanaians that they would "hit the ground running" and with the "president, build a better Ghana".
GNA