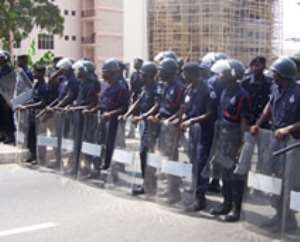 The task force established to check defecating and other insanitary practices at the beach in Komenda-Edina-Eguafo-Abrem Municipality (KEEA), has expressed dissatisfaction with the failure of the police to prosecute culprits.
Mr. Saaka Dramani, Komenda-Edina-Eguafo-Abrem (KEEA) Municipal Coordinating Director, said the police set offenders, who were handed over to them by the taskforce free.
The KEEA Municipal Coordinating Director said these when he accompanied Mr. Michael Kobina Essandoh, Chief Director at the Central Regional Co-ordinating Council (RCC), on tour of parts of the region to monitor cleanup exercises outlined by the council.
The areas included Cape Coast Metropolis, Abura-Asebu-Kwamankese (AAK) and Twifo-Hemang-lower Denkyira (THLD) districts and the Komenda-Edina-Eguaafo-Abrem (KEEA) Municipality.
Mr. Dramani said that the Council had planned monthly cleanup exercises for the region to enhance environmental sanitation.
Mr. Essandoh appealed to communities in the region to undertake regular cleanup exercises and urged the media to sensitise the people on good sanitary practices.
Mr. Job Acquah Markin, Abura-Asebu-Kwamankese District Chief Executive, commended the chiefs and people for undertaking cleanup exercises with support from ZoomLion.
At Moree, Mr. Alan Abban, Principal Environmental Health Officer, appealed for the engagement of more labourers and provision of adequate refuse containers to improve sanitation in the area.
GNA