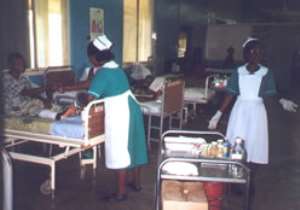 Reverend Veronica Darko, Registrar, Nurses and Midwives Council of Ghana (NMC) on Wednesday urged nurses to give much
concern to the ill treatment of patients at hospitals.
She raised this issue at the end of a two-day workshop on enhancing
the image of nursing and midwifery practice in Accra.
"Some of the concerns have to do with the impolite way the patients are welcomed to the health facility, the insults rained on them when they are
unable to provide certain vital information and the impatient manner in
which prescriptions are explained to them", she added.
Reverend Darko said the NMC had doubts as to whether persons recruited into the profession have the right qualities in terms of personality traits.
She therefore charged principals and tutors of nursing and midwifery training schools to ensure that candidates admitted were properly trained before they come out.
She noted that the council has reviewed the professional code of conduct and it is hoped that all nursing and midwifery practitioners would acquaint themselves with the content and shy away from acts that would result in breach of the code.
Reverend Veronica Darko said the successful practice of nursing and midwifery hinges not merely on the possession of prescribed academic qualifications but more importantly, the natural tendency to be empathetic, caring, patient and willingness to give a listening ear to patients or clients.
Mrs. Mirian Hornsby-Odoi, former Chief Nursing Officer, called on authorities to involve nurses in decisions concerning health care practices and services in the country.
She urged all nurses to play their roles in bringing the profession back to its integral position. She added that the nurses' role is not only to assist the physician but to care for patients and assist them to recover.
Among the topics treated during the workshop were Professional Adjustment, Code of Conduct of Nurses and Midwives and teamwork.
The workshop would be replicated in the remaining nine regions of the country.
GNA