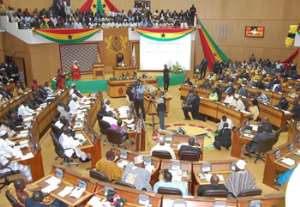 Citi FM reporters comment on the in camera sitting
Parliament on Wednesday entered a closed-door meeting over President Mills' decision to slash ex-gratia packages for MPs and members of the executive.
The in-camera sitting by the legislators has been on the heels of a meeting between the president and the leadership of the House earlier Wednesday.
The delegation that met Prof Mills was said to have pressed for the president to maintain the payment of five months' salary for each year served, as recommended by the Chinery-Hesse committee report.
But President Mills declined, insisting to constitute a committee to come out with a report which is expected to put the matter to rest.
The president has attracted an avalanche of criticism, especially from members on the Minority side, amid quieter misgivings from members of the Majority who say his action is arbitrary.
The Majority and the Minority Leaders of the House were said to have led the delegation that went to the Castle to discuss with the president the possibility of maintaining the recommendations of the Chinery-Hesse committee.
Since President Mills' announcement a few days ago on his intended appointment of a committee to review benefits for parliamentarians, several members of the Minority have also threatened court action against the government.

However, the President's decision seems to have been buoyed by the heavy public outcry that greeted reports of the approval of lavish emoluments for former presidents and ex-government functionaries.
Pressure group Committee for Joint Action (CJA) consequently petitioned the president to review the recommendations of the Chinery-Hesse report, describing benefits for ex-President Kufuor as ridiculous.
It is not clear what the outcome of Parliament's closed-door meeting would be but expectations are that the House might wait for the report of the presidential committee.
Story by Fiifi Koomson