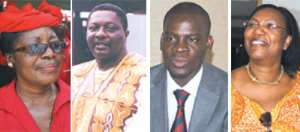 The Japanese Ambassador to Ghana, H.E. Keiichi Katami has stated that his country would continue to play a pivotal role in Ghana's development, by pledging more development aid and investment to help finance various projects aimed at the sustainability of the environment and reducing poverty despite the global economic downturn.
He spoke to The Chronicle in an interview at the signing ceremony of a grant contract, with the Salaga Senior High School in Accra, yesterday.
He stated that as far as Japan's Official Development Agenda was concerned, the global economic crises were not likely to push its development support to Ghana out of gear.
H.E. Keiichi Katami indicated that at the Davos meeting in January, 2009, the Japanese Prime Minister reiterated japans commitment to double its Official Development Assistance to Africa, to the tune of 1.8 billion dollars by 2012, in the next five years.
The Tokyo International Conference on African Development (TICAD), in May last year, also promised many things such as doubling investments and rice production in Africa. "Whatever the crises, Japan will abide by its commitment.
So we will continue to work towards building the nation," he said.
At its TICAD II, however, Japan made a commitment to extend assistance worth about US$750 million (90 billion yen) over a five-year period in the fields of basic human needs, of which amount about US$697 million (83.6 billion yen) has already been disbursed.
As a result, health and medical conditions of more than 244.87 million people are to be improved through measures such as vaccination, provision of safe water and making educational opportunities accessible to approximately 2.6 million children through the construction of schools and other measures.
It is in line with this programme that the government of Japan has provided a grant of $79,768 approximately GH¢94,923 under the its Grant assistance for Grass roots Human Security Projects Scheme for the construction of a four-room boys dormitory block with toilets and bathrooms for the Salaga Senior High School.
When completed, the dormitory will house 300 students and provide a better learning environment for the students and reduce the financial burden on the students.
H.E. Keiichi Katami noted that whiles the educational system in Ghana faced many challenges as "enough attention has been devoted to the role that sufficient rest plays in the growth and development of young minds."
He noted that when students are forced by necessity to sleep in overcrowded dormitories or on varandas, or travel up to some 6 kilometers daily to school, the result is to deprive them of much needed rest and to severely limit their ability to absorb and retain knowledge.
"It is for this reason that the seventeen, that is, a full fifteen percent of the hundred and ten education projects that the GGHSP has funded in Ghana since 1989 have been student accommodation projects" he said.
He was optimistic that the facility would see to the excellent academic results of the students, who will go on to devote themselves to the service of their community and to the development of Ghana as a whole.
The Head Master of the School, Mr. Issah B. Yahaya was, however, grateful for the gesture and promised to put the facility to good use and maintain it to ensure its sustainability.