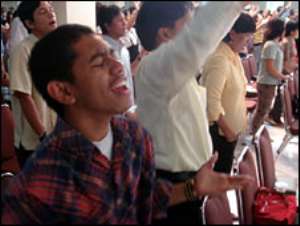 Two persons belonging to a faction of the Saviour Church of Ghana at Juansah near Agogo have been remanded into prison custody by the Juaso Circuit Court for allegedly threatening to kill one Kwadwo Kyei who belongs to a rival faction.
Kwaku Ofori, 56, and Kwadwo Frimpong, 35, both farmers whose plea were not taken, will re-appear on March 2.
Police Detective Inspector Eric Atasi told the court that the Asante Akyem branches of the church had been split into two factions, namely the Abraham and Elia factions.
He said the two factions had over the years been claiming ownership of the church, a situation that had often led to clashes between the two groups.
Ofori and Frimpong belonged to the Abraham faction while Kyei belonged to the Elia faction.
On February 13, the Abraham faction found out that the Elia faction had been duly registered at the Registrar General's Department and took offence.
Two days later Ofori, armed with a short gun, went to the house of Kyei and shot at him but he missed, attracting witnesses to the scene who disarmed him.
While in the process of disarming Ofori, Frimpomg who was also armed with a short gun, rushed to the scene and started firing warning shots with the aim of preventing the witnesses from disarming Ofori but the witnesses disarmed him as well.
A report was made to the police, leading to the arrest of the two accused persons.
GNA