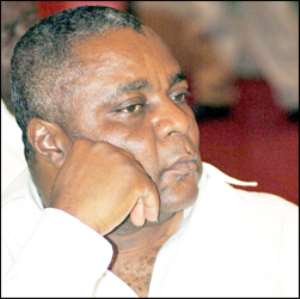 JERRY ASARE There is disharmony among management members of Champions Kumasi Asante Kotoko, as two personalities in the club's set up nearly exchanged blows at the Manyhia Palace, the official seat of the Asantehene Otumfuo Osei Tutu II, over the weekend.
DAILY GUIDE SPORTS gathered that a Kotoko management member, Lawyer Kwame Boafo's timely intervention prevented something nasty from happening in front of some Asante chiefs.
Incensed-looking Jerry Asare, Operations Director, was allegedly on the verge of slapping the club's CEO Sylvester Asare Owusu, when the legal practitioner grabbed his hands.
This was when the five-member management team held a meeting with the Akyempimhene Oheneba Adusei Poku and the Hiahene over circumstances leading to the deaths of six soccer fans at the Baba Yara Stadium when Kotoko lost to Hearts recently.
The meeting, held behind closed doors, was also geared towards finding answers to allegations of financial impropriety on the part of some management members of the club during the game.
The Kotoko CEO reportedly told some selected Kotoko fans immediately the game came to an end that Mr. Jerry Asare's inactions culminated in Kotoko's shocking defeat to its archrivals, Hearts.
Jerry Asare who did not take the rumour lightly, had wanted to vent his spleen on Sylvester Asare in the presence of the chiefs to prove his innocence, but he was stopped by Lawyer Kwame Boafo.
After the near-nasty incident, both Jerry Asare and Lawyer Boafo openly told the chiefs that they could no longer work with Sylvester Asare Owusu and thus called for the latter's head.
George Amoako who is also a member of the Kotoko management team later tried to resolve the impasse between the two feuding parties, admonishing them to smoke the peace pipe.
The Akyempimhene and Hiahene brought the meeting to a close, promising to brief the Asantehene, owner of Kotoko, on the outcome of the meeting.
From I.F. Joe Awuah Jnr., Kumasi