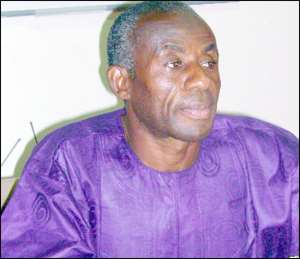 Collins Dauda A FIVE-MEMBER Supreme Court panel will on February 24 decide the fate of National Democratic Congress (NDC) Parliamentary aspirant, Collins Dauda, who is currently in a legal tussle over the Asutifi North seat with his New Patriotic Party opponent, Yiadom Boakye Boateng.
The case was slated for hearing yesterday but one of the panel members was indisposed so it had to be adjourned.
This comes in the wake of a judgment by a Sunyani High Court judge, Justice Opoku Manu, preventing the Electoral Commission  from declaring the winner of the 2008 parliamentary election which Dauda claims he won by a slim margin of five votes.
Dauda, not satisfied with the verdict, brought the matter to court seeking the supervisory jurisdiction of the Supreme Court to quash the decision of the Sunyani judge.
The applicant in his affidavit noted that Justice Manu did not have the jurisdiction to sit on the matter because the law says once there is no declaration by the EC one cannot take the matter to court.    
He was also of the opinion that even where there is a
declaration by the EC, it is only after 21 days that aggrieved persons can take the matter to court in which case there has been no declaration.
The EC on the other hand took the matter to the Court Of Appeals to appeal against the decision of the judge in a court presided over by Justice Asare Korang, a few hours after the Supreme Court adjourned the matter.
Before the matter could be moved, counsel for Boateng, Captain Nkrabea Effah-Dartey, told the court he was just informed that a case had been filed at the Supreme Court with the name "The Republic Vs Sunyani High Court Exparte Collins Dauda" which seeks to have the court quash the entire proceedings and the decision of the judge at Sunyani.
He therefore prayed the court to have it adjourned till the final determination of the matter at the Supreme Court because the decisions of the Highest Court will be binding on them.
When Chris Ackummey, counsel for Dauda was asked by the judges what his opinions were, he said if the case before them and that of the Supreme Court were alike in terms of reliefs, then the case can be adjourned otherwise they could go ahead and listen to it.
However one of the judges said a conflict of interest situation could arise if they went ahead to say the judge was wrong, therefore the Supreme Court went ahead to describe the decision of the Sunyani Judge as fair.
The case has, as a result, been adjourned sine die.
By Fidelia Achama