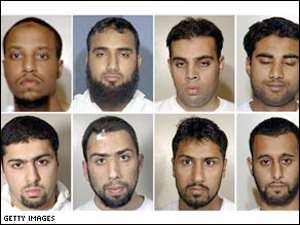 The eight men,liquid bombers Eight men plotted to use bombs disguised in drinks containers to blow up planes heading towards the United States in mid-flight in the name of Islam, a British court heard Tuesday.
Prosecutors told London's Woolwich Crown Court the men planned to make the explosives from household objects to resemble drinks bottles, batteries and other items to be carried onto aircraft in hand luggage, the UK's Press Association reported.
The foiling of the alleged plot in August 2006 triggered the imposition of strict new security measures at international airports around the world, restricting the quantity of liquids passengers can carry on to aircraft.
The measures, which led to massive delays and scores of canceled flights when they were imposed overnight, remain in place at many airports.
Prosecutor Peter Wright described two of the men, Abdulla Ahmed Ali, 28, and Assad Sarwar, 28, as ringleaders of an Islamic fundamentalist conspiracy, according to PA.
"It was an interest that involved inflicting heavy casualties upon an unwitting civilian population all in the name of Islam," he said.
"These men were indifferent to the carnage that was likely to ensue if their plans were successful. To them the identities of their victims was an irrelevance by race, color, religion or creed.
"What these men intended to bring about together and with others was a violent and deadly statement of intent that would have a truly global impact."
Wright said the bombs were to be carried onto flights to the United States by suicide bombers as part of a plot hatched in Britain and Pakistan, according to PA.
He said a computer memory stick seized at the time of the defendants' arrests listed details of flights operated by three carriers -- American Airlines, United Airlines and Air Canada -- between August and October 2006.
"If each of these flights were successfully blown up the potential for loss of life was considerable," Wright said.
Ali, Sarwar and six others including Tanvir Hussain, 27, Ibrahim Savant, 28, Arafat Waheed Khan, 27, Waheed Zaman, 24, Umar Islam, 30, and Donald Stewart-Whyte, 22, deny conspiracy to murder. The trial is expected to last 10 months.