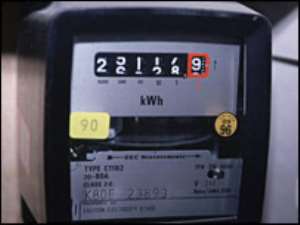 The Minister of Energy, Dr Joe Oteng-Adjei, says he intends to liaise with Parliament to introduce new laws which will provide stiffer punishment for people who use illegal means to tap energy from the national grid.

Outlining the government's vision for the energy sector on his first day in office, he said his mandate was to work towards ensuring availability and accessibility of power to every Ghanaian.
He, therefore, declared his opposition to the situation where a few criminals would use illegal means to tap from the nation's resources.
He said the time had come for the country to generate more energy and export some to boost the national economy.
Dr Oteng-Adjei pointed out that since he had served as the Director of Power at the ministry for about 10 years, he was aware of the challenges facing the energy sector and was poised to confront them, together with his team.
To ensure that every part of the country was supplied with the needed energy, the minister said the ministry would continue with the rural electrification programme, as well as initiate new programmes.
In addition, Dr Oteng-Adjei indicated that the sector would be made to effectively play its role in creating employment.
He pointed out that it was high time the country pushed the perennial energy shortage behind it adding that the age-old problem of power shortage could• be solved if issues concerning the energy sector were taken seriously by all.

Dr Oteng-Adjei took the opportunity to challenge people in the various communities to be vigilant and bold to detect and report to the security agencies those who connected power illegally.
He stressed that through the activities of people who indulged in illegal connection, the country lost 10 to 12 per cent of revenue that accrued from energy supply and gave the hint that those criminals would not have it easy under his administration.

He said it was important for the rest of the people to find ways of telling those criminals to "leave us alone" to enjoy the power which we paid for instead of them making use of it without paying.
The minister said the energy sector was crucial when it came to the country's economic growth, as well as poverty alleviation, and pointed out that it would be better if suggestions from people with the requisite knowledge were welcomed and incorporated into the ministry's programme.
When he was asked whether the new government would continue with the Bui Hydroelectric Project, Dr Oteng-Adjei was emphatic that the project would have to be continued.