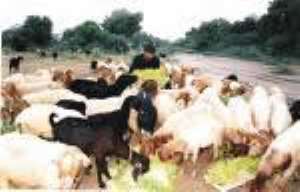 A two-week training workshop under the Afram Plains District Agriculture Development Project (APDADP), for 23 animal health workers to assist veterinary officers to reduce animal mortality through improved health status of livestock and poultry products in the Kwahu North District has ended at Donkorkrom.
The government in 2006 signed a 32.5 million dollar loan agreement with management of African Development Bank (AfDB) to finance the project to increase agriculture production and household incomes of beneficiary farmers to reduce poverty and ensure food and livestock security.
In addition, the project focused on holistic approach to rural development with the provision of potable water, construction of access roads, markets, staff accommodation and fodder banks to prevent cattle from destroying arable farms.
Mr Kofi Amoako-Tweneboah, Project Co-ordinator and Kwahu North District Director of Agriculture addressing the participants, advised them to venture into the grassroots to offer simple animal health care practices to improve agriculture production.
He said more than 100,000 cattle, sheep, goats, pigs and poultry in the area were vaccinated and treated against various diseases last year.
Mr Godwin Ocloo, Eastern Regional Director of Agriculture, advised them to use the knowledge acquired to assist the few veterinary officers in the area to care for livestock and poultry to improve their production.
Dr Donald Darko, Kwahu North District Veterinary Surgeon, commended the participants for voluntarily offering themselves for the training.
He appealed to the people, livestock and poultry farmers to co-operate with the participants to enable them to care for their animals.
The participants were later presented with bicycles, Wellington boots, protective gloves, haversacks and drugs worth GH¢10,500 for the treatment of minor illness affecting livestock and poultry in the area.