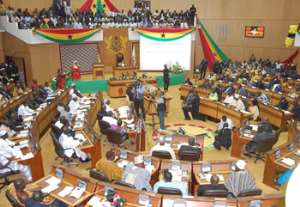 A car snatching syndicate has emerged at the castle, Hon. Isaac Asiamah, MP for Atwima Mponuah, has alleged.
According to him, the increasing spate of car seizures to the Castle by operatives of the BNI has become increasingly embarrassing and dangerous.
The car belonging to Chief Kufuor, son of the former president, was on January 9, 2009 seized on allegations that it belonged to the state.
A managing director of Barclays Bank and the presidential candidate of the NPP, Nana Akuffo-Addo, have subsequently also suffered similar fates, raising perceptions of political harassment by the ruling party.
Presidential Spokeperson Mahama Ayariga has on the three occasions publicly apologised for such acts attributing them to an overzealous security operatives.
But controversy erupted on the floor of the house on Tuesday when the Hon member, Mr Asiamah, likened the car seizures to deeds of a "car snatching gang" let loose in Accra.
"Madam Speaker, there is this creeping danger, and that is unfortunate. Tomorrow you will hear that a car has been snatched. Madam Speaker, this is bad precedent for this country. Madam Speaker, you will hear that there is a car snatching gang at the castle.. Presently the car belonging to the NPP Presidential candidate has been snatched and it is in the castle," Hon Asiamah stated.
His comments triggered boos from Majority side of the House and shouts of approval from the minority.
NDC MP for Sene, Twumasi Appiah described the statement as unwarranted especially when the MP could not tell what would happen "tomorrow."
Appalled by the comments, another member from the majority side called the Hon. Isaac Asiamah to order, demanding an immediate withdrawal and an apology, saying, the comments were not based on facts and evidence.
But another member on the Minority side alluded to the apologies by Mahama Ayariga as enough basis for the comments.
The Speaker, Joyce Banford-Addo, ruled in favour of Hon Isaac Asiamah, saying, the comments did not in anyway defame the president.
Story by Nathan Gadugah