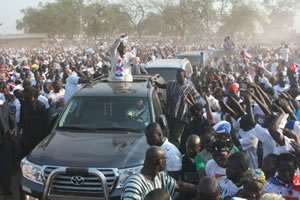 The presidency has apologized to the flag-bearer of the NPP, Nana Akufo-Addo for the wrong seizure of a vehicle belonging to him.
Presidential spokesperson Mahama Ayariga said the presidency was very sorry for the incident and would return the vehicle.
A Toyota Land Cruiser with registration number GE 1466 Z belonging to Nana Addo was confiscated by persons who claimed they were national security operatives.
A driver of Nana Addo, whose name was given as Joe, was said to have taken the vehicle to the Opera Square in Accra where the men approached him and demanded the keys to the car.
The operatives claimed they were acting on "instructions from above" and are said to have driven the car to the Osu Castle, the official seat of government.
Mr. Ayariga described the incident as regrettable but said it was as a result of difficulties in retrieving vehicles belonging to the state.
He claimed some vehicles were retrieved at sales points with 'For Sale' notices written on them.
The Executive Director of the Danquah Institute, Mr. Gabby Asare Otchere-Darko, accepted the apology.
He said Nana Akufo-Addo does not believe the act was orchestrated by President Mills or carried out on his express instructions.
Mr. Otchere-Darko expressed regret that the issue of vehicles was used to unjustifiably malign political opponents and other people.
He denied media reports that Nana Akufo-Addo kept two vehicles belonging to the state years after resigning as Foreign Minister.
According to him, the election 2008 presidential candidate of the NPP was not capable of doing that as he did not even draw fuel from the state as a minister.
Gabby said Nana is concerned that some people close to the government were behaving as if a coup had been staged in the country.
Story by Malik Daabu