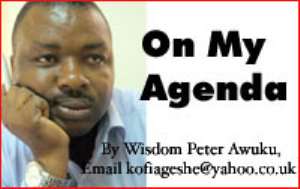 Wisdom Peter Awuku THERE IS no doubt that the privatization of the airwaves in Ghana has brought a lot of excitement in our homes. It used to be the "Station of the Nation" - Ghana Television (GTV). But now viewers have a choice as to what they want to watch either for free or pay-per-view.
As part of their packages, television stations in Ghana have come out with lot of innovative programmes that have now kept our homes busy and excited.
As part of their innovations, sometimes copycatting, the television stations have shifted from the old paradigm of entertainment, education and information sometimes called (InforEduTaiment) to some real excitement; the introduction of reality shows, English and European Soccer (live matches), African and foreign movies, phone-ins and live interviews during news and other beautiful programmes that I cannot mention here. In fact, entertainment programmes on television have continued to make television viewing a delight.
While we applaud the innovation on the airwaves, with particular reference to television, doubts or concerns have been raised about the level of corrupt programmes that our television stations have 'endeared' themselves to without recourse to our cultural sensitivity.
Most foreign soap operas from South America have been criticized for corrupting the minds of the youth. Some of the concerns bordered on the sexual explicit programmes that are shown on our television screens. There are other programmes, whose contents had been criticized for debasing 'womanity' and corrupting the moral base of the youth and society in general.
Sometimes the kind of advertisements shown on television leaves our mouths soured with serious headaches. I mentioned in this column the bad taste of the "Pure Genius Milk" advert where a little girl's performance in the ad, to me, was that of pure blackmail. Those 'brains' behind the ad still think it is a good one and therefore continue to run it.
Another concern about television production and innovation is the introduction of text messaging live on the screen. One could send a live message or two to anyone during some peak hours of the day, sometimes on a holiday. I've been following this development and I commend those who introduced it as it keeps people in touch.
Unfortunately, I was at a loss when I saw and read text messages that were asking for relationships. I thought I did not read and see very well and wanted to be sure I wasn't making a mistake or my eyes were not playing some 'shine your face' kind of trick on me. It was simply disgusting to see that our television screens had been turned into another form of pornographic avenue for young people to cheaply look for cheap women and men.
I'm used to seeing those messages on the internet, especially the classified column of Ghanaweb where young people openly elicit all manner of favours including sex. As part of my research work and inquisitiveness, I often read that column to see who are on the line and what kind of people they are.
The newspapers like P&P and other 'pornographic' newspapers that had been banned but continue to find their way to our news stands were noted for promoting promiscuity and sexual lewdness. The hue and cry by Ghanaians could not stop them from 'corrupting' our minds because the very people we are fighting for find solace in those papers and internet to satisfy their sexual desires.
Children have been caught in this quagmire as they are often seen at 'mushroom' cafés openly browsing adult sites and are seen giggling among themselves because they can see the action live.
I was therefore appalled and scandalized to see my screen showing messages such as "I'm a young man and I want a sugar mumi for relationship"; "I need a sugar dadi who can spoil me with cash and with hardcore dzigidzigi" with their telephone numbers attached to such messages. I had not gotten over my anger when I tuned to the "Station of the Nation", GTV only to be confronted with these pornographic messages.
I exclaimed, hitting my head against the wall to express how scandalized and appalled I was when GTV also started showing such pornographic messages. I could not fault the private television stations so much but for GTV to also join the bandwagon in the name of meeting market demands, for me, is the most corruptible move GTV has taken. I think whoever is in charge of such programming should bow his head in shame and go 'hang' himself or herself or better still go to the Chemu or Korley Lagoon and cleanse himself or herself from that vulgar attitude.
If GTV cares to know, we have more serious issues that need to be addressed than the low level that the station had descended to. The problems that confront Ghana and for that matter Africa is really big ooo and we need the station to champion the cause of reducing poverty, increasing education on HIV/AIDS and malaria and other serious matters.
If you claim to be the "Station of the Nation" where your services reach every corner of the country, then running those text messages on the screen where 'Shiabii' in the villages would be corrupted is not service to the nation but disservice to the nation.
The 'Bungalowbii' who can afford to buy pornographic materials, including accessing the internet for such materials should not be our headache. Of course, we have the duty to warn or draw the attention of society to such developments but to use national asset to corrupt the fertile minds of the youth through irresponsible programming would not be tolerated.
I'm wondering if those at GTV really understand the enormous power of television and the extent to which materials of such nature are put on air!? What has become of the need for national consciousness? I appeal to GTV to stop that pornographic text messaging now!
I again went mad when I saw on TV3, on Valentine's Day, that the station was creating the platform for some 'mannerless' people who seemed to have no home to do some crazy dancing on stage.
The host of the programme called on stage some ladies and gents to do crazy dancing and the kind of crazy dancing that was exhibited left the station in a bad state. In fact, I shudder to think that TV3 really does not have anything good to offer Ghanaians. I'm sometimes quick to say that because the operators are foreigners they do not care about our culture. In their home country such behaviours are 'haram' to them.
Foreign artistes like Madonna and others have been refused permission to perform in Malaysia because their ways of dressing on stage were considered morally wrong.
So why are the Malaysians oblivious to our cultural sensitivity? It tells you that they are here to make profit at our expense. No wonder they were the originators of those lousy soap operas. Does
Acapulco Bay ring a bell?
Well, the National Media Commission and the Ghana Journalists Association must sit up and monitor some of these decays in the media. We don't need further corruption of the fertile minds of the youth. A word to the wise is enough.