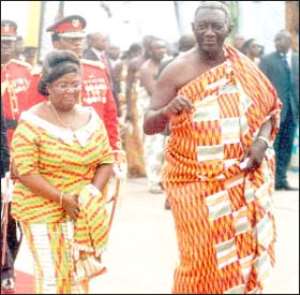 Ex-Prez Kufuor and wife Theresa­ FORMER PRESIDENT John Agyekum Kufuor returned home Saturday night after a 10-day visit to Italy and the United Kingdom, where he accepted appointments to high offices of three international organizations.
An official statement issued by Frank Agyekum, Spokesperson for the former President, said he was officially inaugurated as the first President of the Alliance for Africa Foundation (AAF), an international development organisation whose core functions include healthcare services, education and the defence of civil rights.
The Foundation with US$15 million seed money from the Lombardi Regional Government, Milan City Council and Milan EXPO 2015, will establish offices in Accra and Milan.
The statement said while in Italy, former President Kufuor accepted an offer to serve as Global Ambassador on Hunger for the World Food Programme (WFP) of the UN.
The offer was made by WFP Executive Director, Josette Sheeran, on behalf of the UN Secretary-General, Ban Ki- Moon.
Former President Kufuor, the statement said, also accepted to serve on the board of Milan Expo 2015 with such world renowned dignitaries as the Italian Prime Minister, Silvio Berlusconi, Economist and Nobel Peace Prize winner Muhammad Yunus and the Mayor of Milan, Letizia Moratti among others.
He was accompanied on both visits by his wife, Mrs. Theresa Kufuor.
GNA