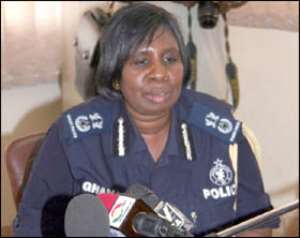 Elizabeth Mills-Robertson-Acting IGP About 10 police officers including a Deputy Superintendent of Police have been mentioned in connection with a theft case involving one Kwaku Dua, a Ghanaian based in Switzerland who arrived in the country to purchase some ounces of gold.
Kwaku Dua, according to the Deputy Accra Regional Police Commander, ACP Bright Oduro, contacted a friend, one Ams Amanor over his desire to purchase some ounces of gold.
Ams, who said he had no knowledge of such deal, promised to connect Dua to one Ata aka Kay who could get him the gold.
After the introduction and some interaction between Kay and Dua, the latter proceeded to Ghana for negotiations to purchase the gold.
On February 2, 2009, the police had a hint that Dua and about six others were transacting a fraudulent business at a hotel in Dzorwulu, Accra.
Armed with this information, a number of personnel were then dispatched to the said hotel to arrest the suspects, but sources say on reaching there, the police without any provocation pounced on Dua and gave him a sound beating, leaving him with a swollen face.  
In the process of the scuffle that ensued between the police and the suspects, an amount of $53,000 and some other items including a digital camera, €8,000.00, two CD players and a bunch of keys belonging to Dua were stolen.
Kwaku Dua who was hauled to one of the police stations in the metropolis was detained for some hours and later abandoned at Tema.
Kwaku Dua has fingered the police over the stolen items; however, police sources suspect Kay who is currently at large as the one responsible for the theft.
By Rocklyn Antonio