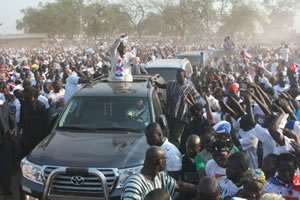 A Toyota Land Cruiser belonging to Nana Akufo-Addo, flag-bearer of the New Patriotic Party (NPP) in the 2008 elections, has been seized.
The vehicle with registration number GE 1466 Z was said to have been confiscated by a posse of persons who claimed they were national security operatives.
A driver of Nana Addo, whose name was given as Joe, was said to have taken the vehicle to Opera Square in Accra when on his way back the men approached him and demanded the keys to the car.
The operatives claimed they were acting on "instructions from above" and are said to have driven the car to the Osu Castle, the official seat of government.
An aide to Nana Addo, Abu Gyinapo, who spoke to Joy News said although Joe had tried convincing the men out of taking the vehicle they would not barge.
"The driver told him, this is not a state vehicle; this is a privately owned vehicle by Nana Akufo-Addo. He showed him [a security detective] the insurance documentation on the vehicle that had Nana Akufo-Addo's name in it," he said.
According to Mr Gyinapo, the operatives after seizing the vehicle called-in fully armed policemen "and they had all manner of confrontations with this driver and retrieved the vehicle from the driver to the Castle."
"We've made all efforts with the documents that clearly show that this vehicle is clearly owned by Nana Akufo-Addo. He bought the vehicle and registered it through due process," Mr Gyinapo added.
"The reasons being given to us is that this is being done from instructions from above and that the powers that be have closed from work," he said.
Readers will be updated with more on this development on Tuesday.

'Politics of car snatching'?
The Mills administration has attracted an avalanche of criticism over the confiscation of vehicles in the street suspected to be state assets.
Many former ex-government functionaries are said to have suffered the blow of the embarrassment with some forced to pick taxis back home.
At least, son of former President Kufuor, Chief Kufuor, and a former deputy minister under the Kufuor administration became victims of it.
Although presidential spokesperson Mahama Ayariga has indicated that the state has not given authority to "anybody" to snatch vehicles.
Story by Fiifi Koomson