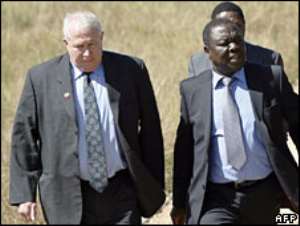 A politician chosen to be a minister in Zimbabwe's new power-sharing government is due in court to face insurgency and terrorism charges, his lawyer says.
Roy Bennett is accused of conspiring to acquire arms with a view to disrupting essential services, Trust Maanda said.
Mr Bennett, the opposition MDC's nominee as deputy agriculture minister, was arrested on Friday, hours before the new cabinet was sworn in.
The MDC has condemned the arrest as politically motivated.
They have called for Mr Bennett to be released unconditionally and unharmed.
About 50 MDC supporters and members of the politician's family are outside the courthouse in the eastern city of Mutare, a local reporter told the BBC, which is banned from the country.
Armed police are also present and the local police station has been barricaded, he adds.
The reporter said Mr Bennett was in the courthouse awaiting his hearing, at which his lawyer will apply for bail. The MDC said the prosecutors had not yet arrived from Harare.
The court appearance comes as ministers in the unity government began their first day at work.
Changed charges
Mr Bennett had been charged with treason following his arrest, but this was then changed to terrorism charges, Mr Maanda said.
"They have now preferred charges of insurgency or attempting to commit acts of insurgency, terrorism and banditry," he was quoted by Reuters news agency as saying.
Mr Maanda said his client was accused of attempting to acquire arms and explosives to be used to sabotage essential services - charges Mr Bennett denies.
There has been no comment from the police or justice officials on the charges.
Mr Bennett is treasurer of Prime Minister Morgan Tsvangirai's Movement for Democratic Change (MDC), and was the party's choice to be deputy agriculture minister in the new unity government.
A white farmer who lost his property under Mr Mugabe's land reform programme, Mr Bennett spent eight months in prison in 2004-05 for pushing a minister during an argument in parliament over land reform.
He recently returned to Zimbabwe after more than two years in South Africa, where he had fled after police sought his arrest in connection with an alleged plot to kill Mr Mugabe.
Economy in freefall
Mr Bennett is one of more than 30 MDC supporters and other activists who have been detained over the past couple of months.
On Saturday, Mr Tsvangirai said Mr Bennett's arrest was undermining the spirit of the power-sharing agreement.
The MDC's Tendai Biti, now finance minister, said the party had not yet decided how it would respond if Mr Bennett and other prisoners are not released.
"We will have to call an [emergency] meeting of our national council and decide," he told South Africa's Talk Radio 702.
Speaking to the BBC, Mr Bennett's wife, Heather, called on Mr Tsvangirai and the MDC ministers to use their new positions of influence to secure her husband's release.
The success of the unity government is seen as key to helping Zimbabwe tackle its severe problems.
The country's economy is in freefall and about 3,400 Zimbabweans have now died from a cholera epidemic.
Potential Western donors want to see a stable government implementing necessary financial reforms before they will provide economic support.