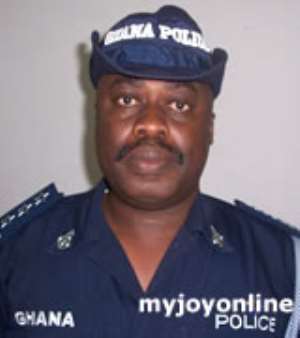 The Director of Police Public Affairs, DSP Kwesi Ofori, has denied allegations that the service has retired personnel who were attached to ministers and deputy ministers of the Kufuor administration as bodyguards.
The rumour about the firings has raised a few eyebrows since it broke last week.
The Member of Parliament for Old Tafo and former deputy Finance Minister Dr Anthony Akoto Osei accused the police of retiring bodyguards when personnel were needed for police duties around the country.
Dr Osei raised the issue when the nomination of the Interior Minister, Cletus Avoka was being approved by Parliament.
But speaking to Joy FM on Monday, DSP Kwesi Ofori said the personnel had been redeployed to other units in the service.
"It is not true that over a hundred ex-bodyguards have been dismissed, sacked or asked to stay home. They are part of the police and the service will continue to use them as appropriate in other fields of endeavour," he stated.
He disagreed with suggestions that the service's withdrawal of the personnel meant sacking them.
"It is true that we have withdrawn our policemen from most members of the past government and that does not suggest that the policemen have been sacked," he emphasized.
DSP Kwesi Ofori also played down suggestions that the withdrawal of the service men was politically-motivated.
He maintained that the men are agents of the state and not of political parties and in that matter their work would not be interfered with to favour any particular government.
Avoka conducts probe
The Interior Minister Cletus Avoka says he would institute a probe into the accusations.
Mr Avoka who started official duties on Monday however said he was not sure if "these guards who were attached to the former ministers were trained through the police system."
He said his ministry would also consider whether the men had the right academic credentials that were required for them to assume duty.
"If they were trained somewhere else; they didn't pass through the police training system, they've not met the requirements of entry into the police service, that is an area we are going to look at," he warned.
Story by Fiifi Koomson